Welcome to Texas City
Photo courtesy Ken Rudine, 2011
Looking North, Texas City street scene
Postcard courtesy www.rootsweb.com/ %7Etxpstcrd/
History in a Pecan Shell

The city's history is primarily a history of its industrial development.

Texas City dates from 1891 when a small group of hunters from Minnesota saw its potential as a deep-water port. With other investors, the men acquired 10,000 acres of land including the minuscule community of Shoal Point which was renamed Texas City.

A plat was filed in early 1893, the same year they applied for a post office.

The few people who had lived in Shoal Point were soon outnumbered by Michiganders and Minnesotans with a population estimated at 250.-

In 1893 a narrow canal was dug to connect the community to deeper water and a rail line built on a long pier allowed freight to be forwarded to Houston and beyond. The Texas City Improvement Company went bankrupt and reorganized into two entities. One managed railroad operations and the other which managed utilities for the community.

The famous storm of 1900 slowed work on the channel, but it was finally completed in 1905. From just twelve visiting ships in 1910, Texas City received two hundred and thirty-nine by 1910. The port was greatly enhanced with the addition of a refinery to process and ship oil from Jefferson County (Port Arthur and Beaumont).

The population was 1,169 in 1911. In 1913 the port became a marshalling area for the U.S. Army's Second Division, in the event it needed to intervene in the ongoing Mexican Revolution. Among the 14,000 troops was the newly formed First Aero Squadron. The encampment was struck by a hurricane in 1915 and the force was moved inland to San Antonio.

In the 1920s, added infrastructure (grain elevators, cotton compresses and warehouses) bolstered the economy and the population soared to 3,500. The Great Depression hit the town hard and the business district suffered most.

Midway through the Great Depression, Texas City acquired additional refineries over the city's maineconomic rival – the Houston Ship Channel.

On the eve of WWII, Texas City's population was over 5,200, making it the fourth largest port in Texas. During the war, operations were 24 / 7. In 1940 a tin smelter was built – the only one in the Western Hemisphere. After the war, the population had become a staggering 16,520.


The 1947 Texas City Disaster
On April 16, 1947, a ship loaded with ammonium nitrate fertilizer blew up, causing secondary explosions and forever linking the city to one of America's worst industrial disasters. The fire department was virtually wiped out. The final count of the dead stood at 576 people.

But rebuilding the damaged caused by the blast also provided jobs and by 1960, Texas City had a population of just over 32,000.


Hurricane Carla
Hurricane Carla flooded the town with four-feet of water and long-delayed plans for a seawall were pushed to the front. The protective barrier was begun in 1962 although completion on the final section didn't occur until 1985.

The city switched to using water from the Brazos River for industrial purposes after it was found that the pumping of ground water was adding to the city's flooding woes.

In the 1980s another levee was added – complete with a pumping station to remove rainwater caused by hurricanes.

[See Texas Storms | Texas Disasters]

The 1980s ranked Texas City the third largest Texas port and number eleven for the entire United States. By the end of that decade, the population had reached over 43,.000. It declined to 40,822 for the 1990 census and for 2000 the number was given as 41,521.
---
Old store in Texas City
Click on image to enlarge
More Texas Stores
Contributor's Note:
Subject: Old African-American Store
Figured I'd send you this picture before I put it on ebay because, once it's out there it's gone. I'd say it's Texas City as that is what it says in back. - June 25, 2018

See Texas Black History
Back of photo showing Sim's Studio, Texas City, Texas
Texas City before 1911
Postcard courtesy www.rootsweb.com/ %7Etxpstcrd/
Koehler's Recreation Bowling Alleys
Postcard courtesy www.rootsweb.com/ %7Etxpstcrd/
City Hall and Auditorium
1930s Postcard courtesy www.rootsweb.com/ %7Etxpstcrd/
Texas City City Hall
1940s Postcard courtesy www.rootsweb.com/ %7Etxpstcrd/
Sixth Street, the main thoroughfare of Texas City
Postcard courtesy www.rootsweb.com/ %7Etxpstcrd/
---
---
Texas City Explosion, April 16, 1947

"I attended 1st grade in Galveston at the Rosenberg school on 10th Street. One morning about 9:00 the whole school shook. We had a fire drill and had to go outside. Mama had made me a nice Easter dress and while we waited outside it became spattered with oil. We went back into the school and classes were dismissed for the day. I had to walk to 7th street where we lived and I found Mama in the bathroom washing clothes on a scrub board, In the afternoon we stood on the porch and looked towards Texas City where the sky was red and glowing. We lived close to St. Marys hospital where the emergency people were bringing in the injured from Texas City in the back of trucks. Later we found out [about the] explosion. That's all I remember about that terrible day". - Margie Bennett Hill, Manvel, Texas, April 09, 2007

More Texas Disasters
---
Texas City Forum
Subject: Naming of Texas City

Maybe I am missing it, but I can't find anything about old dance halls on TE. I believe that this would be an excellent addition to TE, considering all the history of dance halls in Texas. Thanks for the hard work you have put into this website. I spend hours on TE, truly amazing.

I am originally from Texas City, Texas. The reason for the name I always heard is so it would catch on, like NewYork, NY. - Curtis Herzog, June 23, 2019



Subject: Texas Theatres

I have a page for graduates of Texas City High School.

We have a debate on the movie theatres in the years we grew up. We recall the Jewel, the Showboat and the Drive Inn called Tradewinds. Many insist there was a movie on 6th Street called Texas or Texan.

I have no recollection of it and was born in TC in 1938. I suggested perhaps the Jewel originally was named Texas. No, many say it was a different location and looked different. Could be two story bldg.

It would be great for you to solve this for us. We are mostly in our 70's and 80's so some can't remember anything.

Hope you can help!

Thanks, Sylvia Jo Smith, October 02, 2018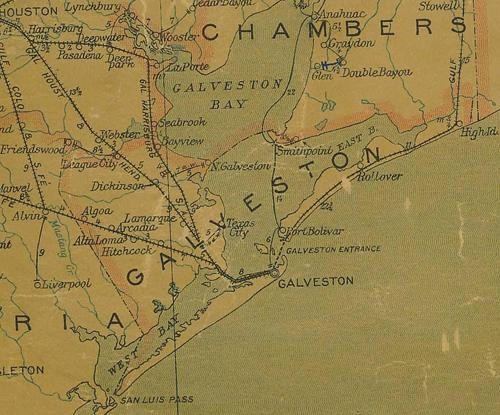 1907 Galveston County postal map showing Texas City
(Under "V" in "GALVESTON")
on Galveston Bay, across from Port Bolivar
Courtesy Texas General Land Office
Texas Escapes, in its purpose to preserve historic, endangered and vanishing Texas, asks that anyone wishing to share their local history, stories, landmarks and vintage/historic photos, please contact us.