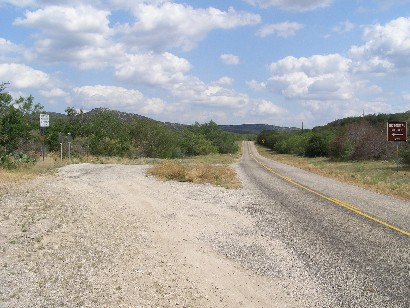 In searching for the Edwards County town of Henze, which was just a name on an old map, we published a plea to the world at large for information of this nearly-forgotten place. Strangely enough, we received information "in-house" since frequent contributor Will Beauchamp has relatives in the area and visited Edwards County not long ago. Ed.

History in a Pecan Shell

Although Henze is not mentioned in the text of the historical markers shown, it had to have been woven into the local historical tapestry. The Thurman Ranch, Kickapoo school and Henze are interrelated.

Mr. Beauchamp writes that the information (other than the markers) he obtained was from both local residents and a small volume of history published by the Rocksprings Women's Club around 1980.

Springs that bubbled to the surface here made it a popular site with the nomadic Kickapoo Indians, hence the name of Kickapoo for the school.

After settlers arrived, they too used the springs and built the school for their children. Jerry Roberts Ellis has stated that in addition to Henze and Kickapoo, there was also a community of Ellis. Mr. Ellis added that at least one member of the Ellis family taught at the school, which is said to have been of log construction. The school had been not far from the present-day location of the historical markers.

Photographer's Note:
"The town or community of Henze and the Early Kickapoo Settlement are very much intertwined. The historical markers on FM Road 674 make no mention of the site Henze.

One of the Ellis family members whose ancestor taught at the Kickapoo School said the early school was a log cabin located not too far from the Historical Markers." - William Beauchamp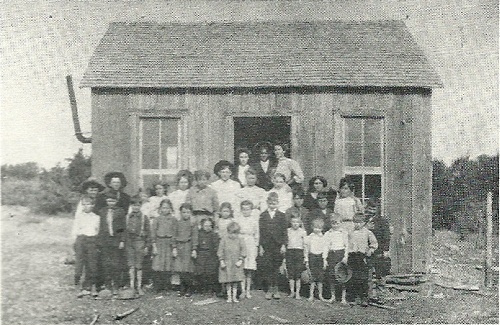 More photos courtesy The Rocksprings Woman's Club
From their book "The History of Edwards County"
Submitted by William Beauchamp :

Site of Ranch of the Thurmans of Kickapoo
Photo courtesy William Beauchamp, June 2012
Edwards County 1920s Map showing Henze
Courtesy Texas General Land Office
Texas Escapes, in its purpose to preserve historic, endangered and vanishing Texas, asks that anyone wishing to share their local history and vintage/historic photos, please contact us.
Custom Search