San Saba, Texas Topics of Interest:
History in a San Saba Pecan Shell
A timeline of significant San Saba events:
1855: ranchers and cotton growers first settled the banks of the San Saba River, from which the settlement took its name.
1856: The county is organized and San Saba became the county seat.
1857: The post office opens and the first county courthouse is built.
1873: The San Saba County News, said to be " the first newspaper in West Texas" was published.
1900: The population drop below 900.
1911: The Gulf, Colorado and Santa Fe Railway came through San Saba in 1911 – and the boost to the economy allowed them to build a new courthouse.
1925: The population reaches 2,000
The Great Depression: San Saba weathered the 30s with minimal loss of population.
1938: San Saba is flooded with a third of the city underwater and many families were displaced.
1940s: The town is incorporated and the population rises to 2,900 people.
1950s: The terrible drought of the early 50s affected San Saba and much of Texas. The population drops.
1980s: Population is 2,336 from an all-time high of 3,400.
San Saba Landmarks & Attractions
Beveridge Bridge
One of two suspension bridges, in the state of Texas, that are still used by cars and trucks.
San Saba County Historical Museum:
In 100-year-old log cabins
In Mill Pond Park – five blocks east of the courthouse.
Open April to September or by appointment.

The San Saba Mother Pecan:
One of the "Famous Trees of Texas" the San Saba Mother Pecan has given the world more varieties of Pecans (through grafting) than any other individual tree. The tree is 9 miles NE of the town near the confluence of the Colorado and San Saba rivers, but is on private property.

Mill Pond Park
Both are just east of the town. Mill pond is a small spring-fed lake and Risien is on the San Saba River. Mill Pond park has hookups for 12 RVs.

Colorado Bend State Park:
Colorado Bend State Park by Chandra Moira Beal
At Bend, Texas on the Colorado River
13 miles from San Saba via FM 560.
Colorado Bend: It Is What It Is by Clay Coppedge
"..Colorado Bend is pure Hill Country: stands of live oak and juniper, thick with wildflowers in the spring, whitetail deer all year long and, every spring, the white bass moving up the Colorado River to spawn..."
1936 Centennial Marker
On US 190 E

San Saba County

Formed from Bexar County; created February 1, 1856; organized May 3, 1856. The river traversing the region, the mission erected near by in 1757, and later the county and county seat were given the name of an early saint, whose name in Spanish is Saba.
The San Saba Chamber of Commerce:
915-372-5141
Website: www.sansabatexas.com


San Saba Texas Forum


Subject: San Saba
I recently saw someone ask what was in San Saba that his distant relative would have gone there for. If Im not mistaken, it was in San Saba, I saw, a few blocks from town, the old railroad tracks, and there was the most beautiful abandoned hotel right next to the tracks, and across the street the most beautiful marble fronted deserted bank building. Truely romantic and enchanting. I dont know what it is about Texas, but what a place!!!!! - John Dean, July 24, 2006
Co Wisdom of Brady, Texas
I came across quotations by "Co Wisdom" of Brady in your website under the towns of Fredonia and Voca along with a photograph of a drug store as it appeared in the late 19th century. Hopefully you can forward my e-mail to the person submitting those quotations. According to an article in the book "Indian Depredation in Texas" by J.W. Wilbarger, published in 1889, my great grandfather Captain John Roch (Roach) of Comanche was attacked and wounded by Indians in 1866 on a trip from San Saba to Comanche. According to the article he had gone to San Saba to lay in supplies for the coming winter. What was in San Saba to cause it to be a source of food and provisions in the 1860's? What was the San Saba mill? Do you have other photos of buildings in are around San Saba dated in the 19th Century? Thanks. L. Marshall Roch , September 25, 2005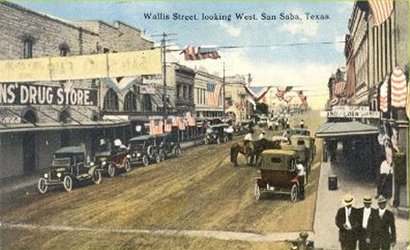 "Wallis Street looking West." in the 1920s
Postcard courtesy www.rootsweb.com/ %7Etxpstcrd/
"Wallis Street looking East from Commerce Street" in 1889
Postcard courtesy www.rootsweb.com/ %7Etxpstcrd/
Photo Courtesy Michael Hattrick, Poulsbo, Washington
Custom Search