"Picture of unpaved main street c. 1925. Before the streets were paved they had rows of sidewalks going across the street." - Photo courtesy Kathy Spier
History in a Pecan Shell

Long before the formation of homeowner's associations there was a man called Isaac (Nat) Smith. According to local legend, Smith had donated land for the formation of a town to be called Rowe, Texas. Since he had donated the land, he felt he had a say in the types of houses that should be constructed. Smith's stipulations didn't sit well with people moving in - so the town moved out. Even though the town had a depot, school, bank and churches, they hooked everything up to mules and hauled the town a mile east in 1907.

As soon as the move was over, the town couldn't wait to sever all ties with Rowe and Mr. Smith. This they did by applying for a post office and incorporating as Hedley - after a railroad official of the Fort Worth and Denver Railway who saw to it that the railroad moved its shipping pen and depot from Rowe (in 1909). Rowe became a footnote and Mr. Smith's reactions are not known.

Hedley built a school in 1910 but no population figures are available for that period. The town became a cotton-production center and a huge ginning operation was built in the 1950s but from a healthy population of just over 800 in 1930, Hedley declined to just 380 for the 1980 Census - about the figure given on the 2004 state map.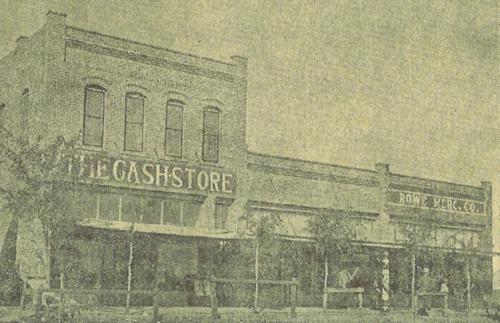 "The first three brick businesses built along the Hedley Main St. Today they house the Hedley Senior Citizens and Hedley Lions Club."
- B.L. Shaw, September 03, 2006
First Methodist Church of Hedley in 1915
Photo courtesy Mary Lynn, daughter of Pastor Wilber Lynn of Hedley
First Methodist Church of Hedley today
2005 Photo courtesy Jon Leggett
First Methodist Church of Hedley in 1915
Photo courtesy Mary Lynn, daughter of Pastor Wilber Lynn of Hedley
Hedley water tower
Photo courtesy Ken Rudine, July 2006
Hedley, Texas Forum
Subject: Hedley, Texas
Dear TE, MY FATHER (JAMES DONALD BAILEY SR) WAS BORN (JULY 14 1928) IN HEDLEY AND LIVED THERE UNTIL SOMETIME IN THE EARLY 1940's. MY FATHER HAD THREE BROTHERS, JOHN TRAVIS, JAMES DONALD and FRANCIS MERLE. MY GRAND FATHER, OLIN EDGAR BAILEY AND MY GRANDMOTHER WAS ELEANOR MARTHA BAILEY ARE BURIED IN ROWE CEMETARY AS WELL AS SEVERAL OF THEIR CHILDREN. I DO NOT KNOW MUCH ABOUT HEDLEY OR MY GRAND PARENTS OTHER THAN WHAT I HAVE PICKED UP FROM OLD STORIES OF MY AUNTS AND UNCLES AND WHAT I HAVE BEEN ABLE TO FIND IN CENSUS AND OTHER REPORTS ON THE INTERNET. I BELIEVE THAT MY GRAND FATHER WAS A MERCHANT / MANAGER AND HAD SOMETHING TO DO WITH PROVIDING ICE FOR HEDLEY. I BELIEVE THAT MY GRAND MOTHER WAS A HOUSE KEEPER AND LATER DID SOME SORT OF TEACHING AFTER MY GRAND FATHER DIED. FROM WHAT I UNDERSTAND MY GRAND FATHER WAS HIT ON THE HEAD WITH A TRUCK WHEEL AND WENT BLIND AND DIED (AFTER BEING SICK FOR A GOOD WHILE) WHEN MY DAD WAS ELEVEN YEARS OLD. MY GRAND MOTHER EITHER HAD BEEN TEACHING OR STARTED TEACHING AFTERWARDS AND THEN FROM WHAT I UNDERSTAND SHE HAD DEVELOPED CANCER AND DIED SEPT 27, 1947 IN PLAINVIEW, TEXAS. MY GRAND MOTHER WAS RETURNED TO HEDLEY AND BURIED IN ROWE CEMETARY. MY UNCLE CHARLES EDGAR WENT TO SCHOOL IN MCLEAN AND PLAYED FOOTBALL. I HAVE ONE OF HIS FOOT BALL GAME PROGRAMS. THAT IS ABOUT ALL OF THE IMFORMATION THAT I HAVE PERTAINING TO HEDLEY. I HOPE TO GO THROUGH SOME PAPERS AND PICTURES IN THE FUTURE

I PLAN ON DRIVING UP TO HEDLEY SOON TO SHOW MY SON WHERE HIS GRANDFATHER WAS BORN AND LIVED FOR THE FIRST 19 YEARS OF HIS LIFE. I DO NOT THINK THAT WHAT I HAVE GIVEN YOU IS GOING TO HELP, BUT I WAS HOPING THAT IT MIGHT AND IF ANYTHING RINGS A BELL WITH YOUR READERS, THEY MIGHT BE ABLE TO SHARE SOME IMFORMATION WITH ME. - JIM, MARY & J.D. BAILEY, SAN ANTONIO, October 31, 2007


Subject: Hedley, Texas
Dear TE, I am in the process of writing a history of Hedley. Attached are a few photos I have recently acquired. If anyone has historical information about Hedley's early years, they can contact me. pkspier@valornet.com - Kathy Spier, Hedley, Texas, September 23, 2007