History in a Pecan Shell

A brief timeline of important events in Panhandle's history:
Panhandle was originally named with the appropriate (to the county) name of Carson City.
1887: Name changed to Panhandle - first newspaper is printed.
1888: Carson County organized - Panhandle becomes seat of government.
1888: Panhandle is terminus for the Panhandle and Santa Fe Railroad.
1900: Population reaches 300.
1909: Panhandle incorporates.
1920s: Prosperity from natural gas sparks interest in installing infrastructure.
1930s: Town is bankrupted when interest on infrastructure bonds can't be paid.
1950: New courthouse constructed.
1965: Bonds finally paid off.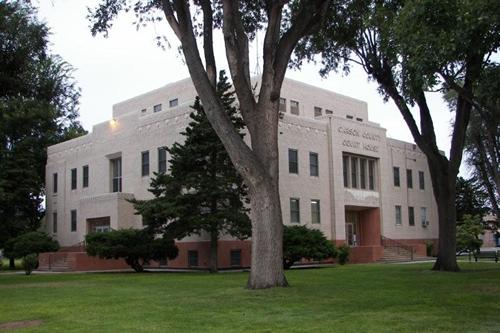 Panhandle, Texas Landmarks & Attractions
Thomas Cree's Little Tree- Planted in 1888, the Bois d'Arc tree planted here was the first tree planted in the Panhandle region. It was accidentally poisoned in 1969 - replacement tree and markers are on US 60 - five miles South of town.


Carson County Square House Museum:
In Pioneer Park on Hwy 207City Offices are in the former Santa Fe Depot

Scenic Drive: FM 293 West to Texas 136 North
Photographer's Note:
The Atchison, Topeka and Santa Fe Railroad depot was built in 1928 during the county's oil boom. Last used for passenger service in 1971, it became the Panhandle City Hall in 1985. (This information was gleaned from the historical marker in front of the building.) - Terry Jeanson
Mian Street Panhandle December 2007
Photo courtesy Tom Jones
The windmill in front of the Square House Museum
Photo courtesy Tom Jones, December 2007
More Windmills
"The Texan Hotel opened in 1926 out of a desperate need for lodging during the county's oil boom. Originally named the Downs Hotel after its initial owners, it was sold in 1932 and renamed the Texan Hotel. This information was gleaned from the historical marker in front of the building." - Terry Jeanson
Carson County 1940s map
From Texas state map #4335
Courtesy Texas General Land Office
Texas Escapes, in its purpose to preserve historic, endangered and vanishing Texas, asks that anyone wishing to share their local history, stories, landmarks and vintage/historic photos, please contact us.