1920s Hale County map showing Swastika (S of Plainview)
Courtesy Texas General Land Office
History in a Pecan Shell
Swastika, perhaps due to the name's association with the Nazis, has been removed from even the most detailed county maps. It first appeared on the General Land Office 1920s map of Hale County and remained for both the 1930 Highway map and the 1940 state county map. It thereafter disappeared, with not so much as a cemetery shown for the town's presence.

The Swastika, one of the most widely used symbols of good luck, has wide-ranging religious significance as well. The name is from the Sanskrit and it has appeared on inscriptions, carvings, jewelry and at least one vegetarian barbeque sauce can. It was a talisman for early aviators and Charles Lindbergh had it painted on the Spirit of St Louis. Texas Guinan's boyfriend used it as a logo on the doors of his fleet of taxis in 1920s NYC and it even appeared on a unit patch for the U.S. Army's 45th Infantry Division.

But after the Nazis appropriated it for their political party, it fell out of favor. A history of the town may be available for a researcher in the Hale County area, but currently, there's no content available for our coverage. Just the appearance on the old county maps.
Subject: Swastika, Texas
The swastika or 'sun wheel' is a sacred symbol among American Indians. That's why the 45th Infantry--the Oklahoma National Guard--used it as their patch. It was replaced by a stylized thurnderbird. It was featured on the rosette of the warbonnet of the 'Screaming Sioux,' which was the squadron emblem for the Lafayette Escadrille, made up of volunteer Americans who flew for the French (it was actually the air arm of the French Foreign Legion) during WW I. It was also, prior to WW II, used widely by the Boy Scouts in the US, but not overseas. Today it is illegal to display a swastika in most of Europe.

During WW II, fighter pilots in Europe painted small swastikas on their planes--one for each German plane shot down. Bomber pilots often painted small swastikas on their planes for each mission flown. Scale models of those aircraft, today, are marketed all over the world. Instead of swastikas, the decal 'score marks' are usually small yellow crosses on those models. However, on models of planes from the Pacific the decals are accurate--representations of Japan's 'rising sun' flag.

Captain Bong's P-38 had 50 rising suns on it. He was the highest-scoring ace in US history. He was brought back to the States to train pilots and was killed when a P-80 Shooting Star, the first US operational jet fighter, flamed out on takeoff. He was testing the new aircraft.
- C. F. Eckhardt, May 05, 2010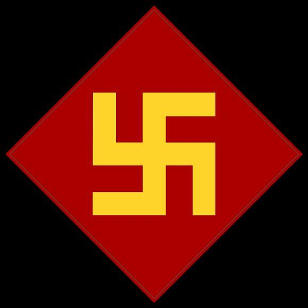 U.S. Army's 45th Infantry Insignia
Courtesy Wikipedia Commons
"Sign of Good Coal"
Courtesy Texas State Library and Archives
Swastika on Vegetarian Barbecue Sauce
TE photo
Custom Search
Book Hotel Here - Expedia Affiliate Network