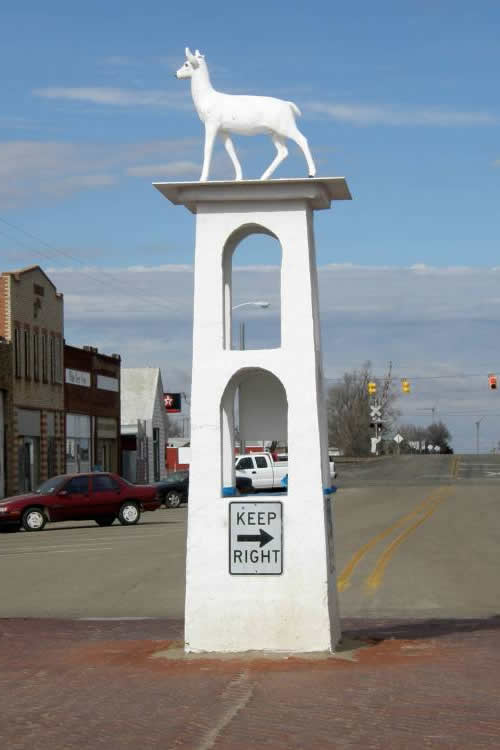 History in a Pecan Shell
Originally named Paton, the town was renamed after the creek which was named after an albino deer - reportedly seen by an Indian sometime before the arrival of settlers.

A Timeline of significant events in White Deer history:
An English ranching company started operations in the early 1880s.
1887: the Southern Kansas Railway of Texas arrives - Hqs for the Diamond F Ranch constructed
1888: Depot built, post office granted
1889: Town renamed White Deer
1890s: British shareholders begin selling land for small farms and ranches to settlers.
1908: Town moves to be closer to the railroad
1909: Polish farmers transmigrate from Central Texas
1919: Oil is discovered
1926: Peak of oil boom
1928: Population peaks at nearly 3,000
1931: Fire causes severe damage and the town suffers tornadoes in
1947 and 1951

Like Snyder, Texas' statue of an albino buffalo, and Muleshoe's statue of a (non-albino) mule, White Deer has a city mascot of a white deer.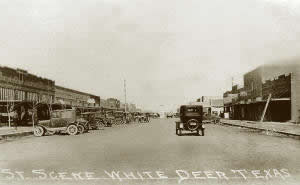 White Deer street scene
1910s-1920s photo courtesy texasoldphotos.com
Historical Marker: at base of White Deer Statue on Main Street, downtown White Deer

White Deer

Name taken from nearby creek, so called by an Indian legend of White Deer feeding there. Site of county's first water well, drilled at N Bar N Ranch, 1887. Also headquarters for White Deer Land Co. (formerly Francklyn Land and Cattle Co., a British syndicate with 630,000 acres of Panhandle land), which in 1902 sold its acreage for small farms and ranches. Located .5 mile east on railroad in 1906, it became supply town for settlers. Present townsite founded in 1908. Oil boom came in 1920s. Is shipping point for grain and cattle.
1965
White Deer, Texas Landmarks
Historical Marker:
White Deer Sacred Heart Catholic Church
WHITE DEER SACRED HEART CATHOLIC CHURCH IN 1909, HENRY CZERNER AND BEN URBANCZYK, BOTH ORIGINALLY FROM THE POLISH COLONY OF PANNA MARIA, TEXAS, CAME TO THE PANHANDLE AND SECURED A BLOCK OF LAND NEAR THE TOWN OF WHITE DEER. BY 1913, TWELVE POLISH FAMILIES HAD SETTLED IN WHITE DEER. WITHOUT A CHURCH, SETTLERS OFTEN HELD PRAYER SERVICES IN INDIVIDUAL HOMES. ONCE A MONTH, A VISITING PRIEST WOULD CONDUCT MASS. FUNDS WERE RAISED AND FATHER C.J. BIER PURCHASED LAND FOR A CHURCH IN FEBRUARY 1913. WHILE MEN CONSTRUCTED THE CHURCH WOMEN AND CHILDREN WORKED IN THE FIELDS AND SACRED HEART WAS COMPLETED ON MAY 29, 1913.

THE PARISH GREW AND IN 1927 FATHER M. FRENCH BECAME THE FIRST RESIDENT PASTOR. DURING THE OIL BOOM SACRED HEART GREW AND BECAUSE OF A LACK OF CATHOLIC CHURCHES, AREA RESIDENTS ATTENDED MASS IN WHITE DEER. FATHER ZIENTA ESTABLISHED THE POLISH SAUSAGE FESTIVAL IN AUGUST 1939 TO PRESERVE POLISH TRADITION, BUT DURING WORLD WAR II THE FESTIVAL WAS DISCONTINUED. THE CHURCH COMMITTEE PURCHASED A HOSPITAL UNIT FROM PAMPA AIR FORCE BASE ON MAY 5, 1948 THAT BECAME THE PARISH HALL. WHEN A TORNADO HIT WHITE DEER IN JUNE 1951, THE ELEMENTARY AND HIGH SCHOOL WERE BOTH DESTROYED AND SACRED HEART BECAME THE TEMPORARY SCHOOL TO GRADES FIVE THROUGH EIGHT. THE POLISH SAUSAGE FESTIVAL WAS REVIVED IN 1957 AND PROCEEDS WERE USED TO BUILD A NEW CHURCH THAT WAS COMPLETED IN MARCH 1962. THE STATUE BETWEEN THE CHURCH AND RECTORY IS IN HONOR OF ROBERT LANE McCREARY WHO DIED AT SEA ON OCTOBER 27, 1964. CATHOLIC PRIESTS HELPED EARLY POLISH SETTLERS BECOME A PART OF THE COMMUNITY. SACRED HEART HAS CONTINUED SERVING THEIR NEIGHBORS AS A WELCOMING PLACE OF WORSHIP AND HOPE.
(2012)
White Deer Polish Settlers historical marker
Photo courtesy Barclay Gibson, December 2008
See People
Historical Marker: FM 294 N (North Main Street), on grounds of Sacred Heart Catholic Church
Polish Settlers of White Deer
In 1854, 100 Polish families (800 persons) came to America in one small sailing ship--a voyage of 9 weeks. None spoke English. From Galveston they walked 200 miles to Panna Maria in South Texas, arriving for Christmas Eve Mass. There they toiled at manual labor. In 1909, in response to White Deer Land Co. offers, they migrated here. Later the colony had additions from Washington State, Nebraska, Wisconsin. Their first Catholic church, completed May 13, 1913, was on this site. Today their descendants include some of the most outstanding citizens of Texas.
1966
---
Historical Marker: 101 W. Eighth, White Deer

White Deer United Methodist Church

A Methodist Church was first formed in White Deer in 1911. The Rev. W.B. McKeown, who worked to form several panhandle Methodist congregations, organized the church's seven charter members. The congregation shared the town's school building with several denominations until the Presbyterians later in 1911 constructed a church building, which also was shared with the other churches in White Deer.

In 1918, trustees of the Methodist Church purchased six lots for the construction of their own sanctuary. The building, completed in 1922, was situated on the northeast corner of West Fourth and Doucette Streets. The church's first parsonage was erected in 1926. When a tornado devastated White Deer and destroyed the town's schools in 1951, the Methodist Church opened its doors as one of several temporary school sites.

When the church outgrew its first structure, the congregation moved to a new site at the intersection of West Eighth and Main Streets in 1960. This new building, constructed at a cost of $96,000, was completed debt-free.

Community outreach has been an important part of the church's ministry since its inception. Church women formed a ladies aid society in 1916 in support of missionary work, and the group is now known as the United Methodist Women; a Methodist men's organization was first organized in 1956. A community food pantry was begun as a ministry of the church in 2004 and it continues today as a joint effort between several churches and volunteers. White Deer United Methodist Church, the oldest continuously active congregation in the community, endures as a spiritual leader.
2010
---
Historical Marker: Junction of County Road Y & County Road 16, S. of White Deer, Texas
White Deer Cemetery
IN 1916, MRS. BEULAH V. TILLMAN, A "FEMME SOLE," PURCHASED 155 OF THE 160 ACRES THAT MADE UP BLOCK 7 OF SURVEY 26 OF THE INTERNATIONAL AND GREAT NORTHERN RAILROAD COMPANY. BECAUSE THE REMAINING FIVE ACRES WERE OMITTED FROM THE PURCHASE, THE SITE MAY HAVE ALREADY BEEN ESTABLISHED AS AN INFORMAL BURIAL GROUND. IT IS BELIEVED THAT AN EMPLOYEE OF THE RAILROAD DIED IN AN ACCIDENT CA. 1905 AND HAD BEEN BURIED AT THE SITE, ALTHOUGH NO RECORDS OF THE BURIAL SURVIVE.

THE WHITE DEER CEMETERY ASSOCIATION WAS FORMED IN MARCH 1923, AND THE FIRST DIRECTORS OF THE ASSOCIATION WERE JOHN GORES, J.C. JACKSON, C.E. EVANS, G.B. MOSS, AND W.H. BRADY. AT THAT TIME, FREDERIC DE P. FOSTER, ACTING AS A REPRESENTATIVE OF THE WHITE DEER LAND COMPANY, SOLD THE FIVE ACRE CEMETERY TO THE ASSOCIATION TRUSTEES FOR THE SUM OF ONE DOLLAR. A SECOND CHARTER WAS FILED FOR THE CEMETERY ASSOCIATION IN 1953, BUT THE ASSOCIATION EVENTUALLY BECAME INACTIVE. IN 1991, A GROUP OF INTERESTED CITIZENS MET TO REESTABLISH THE ASSOCIATION, WHICH CONTINUES TO OVERSEE THE SITE.

THE OLDEST MARKED INTERMENT IN WHITE DEER CEMETERY IS THE 1915 GRAVE OF HOWARD MILHOAN. (A REPLACEMENT GRAVESTONE INCORRECTLY INDICATES THAT INFANT JEWEL BRADY DIED IN 1914, BUT HER DEATH ACTUALLY OCCURRED IN 1916.) ADDITIONAL BURIALS INCLUDE VETERANS OF THE CIVIL WAR, WORLD WAR I, WORLD WAR II, THE KOREAN WAR AND THE VIETNAM WAR. TODAY, WHITE DEER CEMETERY SERVES AS A REMINDER OF THE COMMUNITY'S EARLY PIONEERS, WHILE STILL MEETING THE NEEDS OF THE PEOPLE OF WHITE DEER AND THE SURROUNDING AREA.
HISTORIC TEXAS CEMETERY – 2009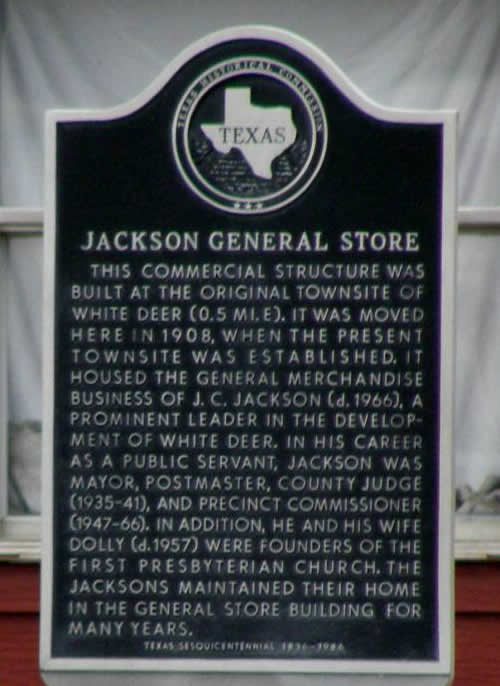 Historical Marker: 100 S. Main St.

Jackson General Store

This commercial structure was built at the original townsite of White Deer (0.5 mi. E). It was moved here in 1908, when the present townsite was established. It housed the general merchandise business of J. C. Jackson (d. 1966), a prominent leader in the development of White Deer. In his career as a public servant, Jackson was mayor, postmaster, county judge (1935-41), and precinct commissioner (1947-66). In addition, he and his wife Dolly (d. 1957) were founders of the First Presbyterian Church. The Jacksons maintained their home in the general store building for many years.
1986
White Deer Merrell Building
Photo courtesy Barclay Gibson, December 2008
White Deer Merrell Building
Photo courtesy Barclay Gibson, December 2008
Carson County 1940s map showing White Deer
From Texas state map #4335
Courtesy Texas General Land Office
Texas Escapes, in its purpose to preserve historic, endangered and vanishing Texas, asks that anyone wishing to share their local history, stories, landmarks and recent or vintage photos, please contact us.