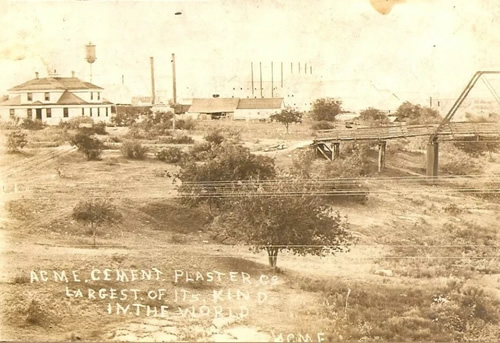 History in a Pecan Shell
Kansas gypsum-processor James Sickler discovered a huge deposit of gypsum here in 1890 and decided to exploit it. Sickler went into partnership and reestablished his Kansas operations here.

Known as the Lone Star Cement Plaster Company, it was the business that created the town of Acme.

Other Kansas gypsum companies arrived and by 1898 the town had its own post office. Two railroads made a connection to Acme - the Fort Worth and Denver City and the Quanah, Acme, and Pacific.

By the early 1900s Acme had a school, store, hotel and depot. As the gypsum was excavated, prehistoric mastodon fossils were discovered.

Little information was to come from Acme through the teens, 20s and 30s. The population reached 400 in 1945 and in time the plant became one of the largest US companies.

A plant closure in the 1960s created a severe decline and since the plant was virtually the only source of work, by 1975 there were only 14 people reported living there.

Since the 1980s, the Georgia Pacific Corporation has manufactured sheetrock at the site.

A few scattered buildings remained, but in the late 1990s, many of the old ruins were bulldozed – little is left today other than the sheetrock plant. The name Acme could only be seen on the side of the railroad bridge – as part of the name of the railroad.
Acme School, Quanah Texas
1939-42
Teachers and Students Portraits
Click on image to enlarge
Photo courtesy Steve Rollins
School pictures from Acme Texas
"My grandparents were school teachers in the Texas Panhandle area from about 1919 until 1957. At least half of the schools they taught at no longer exist and neither do the towns. His family lived in Quanah and his kids went to the Quanah schools while he and Mrs. Rollins taught at area schools. My granddad, Wells Rollins, is in the top pictures, some of his students are below. The picture is from between 1939 to 1942." - Steve Rollins, August 25, 2020

[See Texas Schoolhouses]
Hardeman County 1940s map showing Acme
From Texas state map #4335
Courtesy Texas General Land Office
Texas Escapes, in its purpose to preserve historic, endangered and vanishing Texas, asks that anyone wishing to share their local history, stories, landmarks and recent or vintage photos, please contact us.