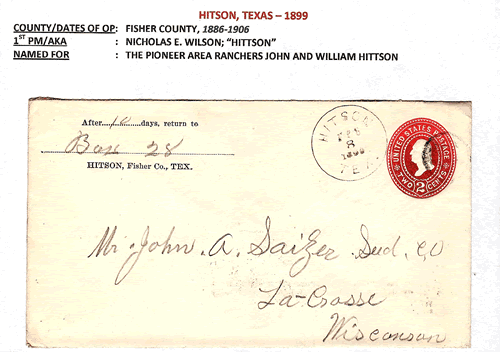 History in a Pecan Shell
Ranchers John and William Hittson settled here around 1870. A post office was applied for and granted in 1886. By 1890 the community numbered 25 residents and by the middle of that decade, Hitson had the four essential building blocks for a community – a school, church, store and post office.

The post office closed in 1906 but the town survived (barely). Although no population figures are available, 1940 showed Hitson had increased the number of businesses to three. After the school consolidated in 1947, the life went out of the town and besides a few scattered residences, only the cemetery and marker are left.


Photographer's Note
"The Hitson marker mentions an unamed cemetery. Afton Cemetery may or may not be associated with Hitson. This is another of those communities that sprang up across Texas and left without a trace, usually with no significant history." - Barclay Gibson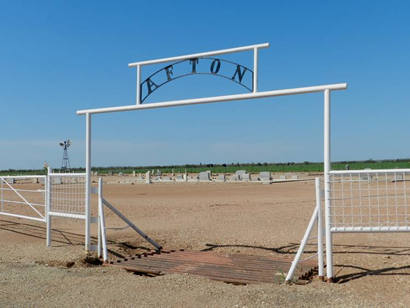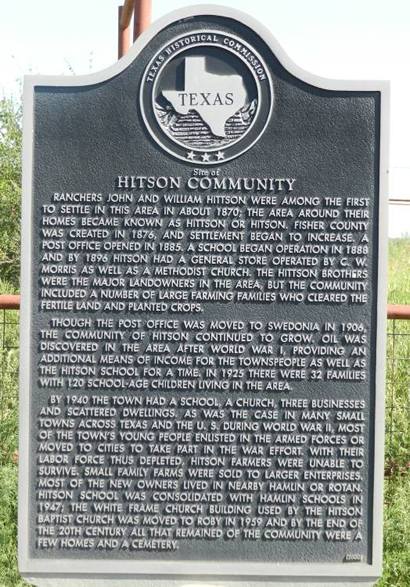 Historical Marker Text
Site of Hitson Community
Ranchers John and William Hittson were among the first to settle in this area in about 1870; the area around their homes became known as Hittson or Hitson. Fisher County was created in 1876, and settlement began to increase. A post office opened in 1885. A school began operation in 1888 and by 1896 Hitson had a general store operated by C. W. Morris as well as a Methodist church. The Hittson brothers were the major landowners in the area, but the community included a number of large farming families who cleared the fertile land and planted crops.

Though the post office was moved to Swedonia in 1906, the community of Hitson continued to grow. Oil was discovered in the area after World War I, providing an additional means of income for the townspeople as well as the Hitson school for a time. In 1925 there were 32 families with 120 school-age children living in the area.

By 1940 the town had a school, a church, three businesses and scattered dwellings. As was the case in many small towns across Texas and the U.S. during World War II, most of the town's young people enlisted in the armed forces or moved to cities to take part in the war effort. With their labor force thus depleted, Hitson farmers were unable to survive. Small family farms were sold to larger enterprises. Most of the new owners lived in nearby Hamlin or Rotan. Hitson school was consolidated with Hamlin schools in 1947; the white frame church building used by the Hitson Baptist Church was moved to Roby in 1959 and by the end of the 20th century all that remained of the community were a few homes and a cemetery.
(2000)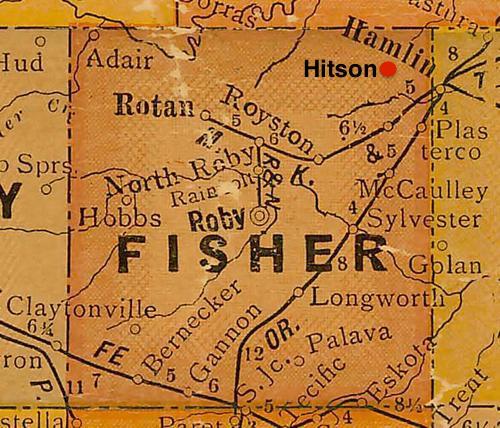 Fisher County map showing Hitson (NE of Roby)
Modification of Texas General Land Office 1920s map
Texas Escapes, in its purpose to preserve historic, endangered and vanishing Texas, asks that anyone wishing to share their local history and vintage/historic photos, please contact us.
Custom Search