FORT HANCOCK, TEXAS
Hudspeth County, West Texas
Highway 20 - just South of I-10
52 miles SE of El Paso
66 miles W of Van Horn
Population: 400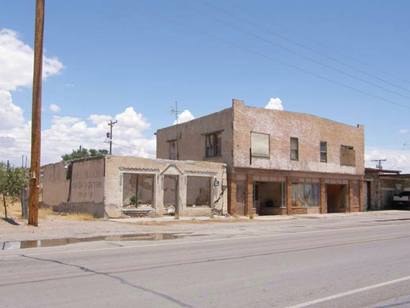 History in a Pecan Shell
Camp Rice/Fort Hancock
Fort Hancock had been established as Camp Rice in 1881. After the death of Union Major General Winfield Scott Hancock in 1886, the post changed its name to honor the General, who had wounded at Gettysburg and was later the commander of the 5th Military Department (which included Texas).

Fort Hancock and Fort Quitman were both subposts to the "Mother Fort" of Fort Davis.

It was near what had been Ft. Quitman, but was reestablished in 1882 to be nearer to the Southern Pacific Railroad. It was one of the few forts in Texas to be purchased by the U.S. War Department.

The Handbook of Texas graciously supplies the purchase price of $2,370 - which answers the nagging question: What's a Fort Worth?" It became an independent post in 1884.

Hancock was frequently flooded by the Rio Grande despite small dams that had been built by the soldiers to prevent this. They also endured several fires before pulling out in 1895.

A town sprang up just East of the Fort and the post office opened in 1886, the year the Fort's name changed.

The town of Fort Hancock today has an estimated population of 400 and had its 15 minutes of fame recently, when it was mentioned as a border crossing point in the end of the movie "The Shawshank Redemption." Van Horn Hotels > Book Here and Save
Photographer Jason Penney says today that while many fish can be caught here (catch and release), the pollution from the Rio Grande prohibits them being eaten.
Water diverted from the Rio Grande
Photo Courtesy Jason Penney
Indian Hot Springs Hudspeth County, West Texas
Lonesomeness Redefined -
Fort Hancock, "Fort Unworthy", Victorio's Secret, the Buffalo Soldier's graves and the skirmish that made them necessary.

Book Your Hotel Here & Save:
Van Horn Hotels | El Paso Hotels
Fort Hancock Texas Forum
Fort Hancock Info Sought (prior to 1895)
Dear TE, In looking for anything that someone may have written on Fort Hancock around 1885-95, I ran across your [magazine]. I got so caught up in reading other peoples' adventures with Texas/Oklahoma that I forgot what I was originally looking for. However, with a little pricking of the old gray matter I was able to recall my original purpose: Fort Hancock and to find information on land, weather conditions, and any other events of interest that may have gone on in the early days ...(PRIOR to 1895.)

My grandmother, born 1844 in Norway, ended up at Fort Stockton as a lone woman with a 10 year old son in 1880. By 1885 she was moving to (Fort Rice) Fort Hancock and homesteading a piece of ground there. I have all the land descriptions but don't know how to locate the area short of traveling to Fort Hancock and looking at land records. I have tried finding information in the library but not really the kind I was looking for. If you or any of your readers can fill me in on the early years of the Fort and why a lone woman would want to end up there? Truly enjoy reading your articles and responses. - Bee Foutz, October 25, 2006


Thank you for the piece on Fort Hancock. I was raised there and can tell you that it is a great place to grow up. If you can dig up some more information on Fort Hancock, I'd like to read it. - Patricia W.


Just wanted to ditto Patricia W's sentiment on Ft. Hancock. My family was stationed there with the Border Patrol twice when I was a kid. Wonderful memories of incredible people makes living in this tiny town the most influential experience of my life. I think of you often. - Jan Penter

Fort Hancock Area Hotels - Book Here & Save:
El Paso Hotels | Van Horn Hotels