GILMER, TEXAS

by Archie P. McDonald
It is presumptuous for a native of Beaumont and long-time resident of Nacogdoches to be writing about Gilmer, Texas. Only admiration for my long-time friend and publisher of the Gilmer Mirror - and being able to take advantage of the research of Mary Kirby - provides the courage to do so.

Well, those things, plus two memorable visits to Gilmer at Sarah's and Mary's invitation to present programs on country music and the music of World War II convinced me that citizens of Gilmer and Upshur County are serious about their history.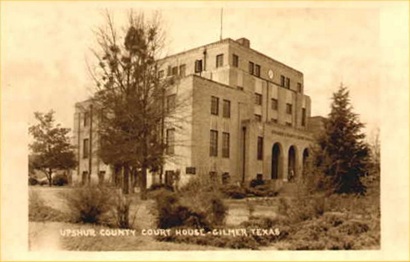 Upshur County, authorized by the legislature in 1846, and Gilmer, were named in memory of United States Secretary of War Able Upshur and Thomas W. Gilmer, who lost their lives in an explosion aboard the USS Princeton in 1844.

Enabling legislation named the county seat and required that it be located within five miles of the county's geographical center. A grove of oaks on the farm of William Hart, which first served as the county seat, became Old Gilmer when the town's permanent location-approximately three miles away-was established in 1848. A post office, Masonic Lodge founded in 1853, and various businesses associated with the area's prevailing agricultural orientation-especially cotton gins-gave the community permanence.

Gilmer hosted several schools, including the Gilmer Masonic Male Academy and Looney School, operated by Morgan H. Looney. Oran Milo Roberts, elected governor of Texas in 1878, taught at the Looney School for a time after the Civil War.

Upshur County farmers became major producers of sweet potatoes early in the twentieth century, and in 1935 the county's citizens began celebrating their area's major crop with an annual Yamboree festival. The Yamboree quickly became the major civic promotion for Gilmer and remains one of the oldest civic festivals in Texas.

Many of Gilmer's citizens chose to live there and commute to jobs in larger cities, such as Tyler or Longview, and some move even farther away but never lose their hometown orientation. Two of my friends in Nacogdoches, Mrs. Jeanne Attaway and Mrs. Maggie Driggers, still call Gilmer home and I know at least one of them subscribes to the Mirror. "Home is where the heart is," says the poet; for these, that will always be Gilmer.

Gilmer Hotels
hotels.com Best places. Best prices. Guaranteed

© Archie P. McDonald
All Things HistoricalMarch 12, 2006 column
A syndicated column in over 40 East Texas newspapers
(This column is provided as a public service by the East Texas Historical Association. Archie P. McDonald is director of the Association and author of more than 20 books on Texas. )