Downtown Bowie
Photo courtesy Mike Price, October 2007
History in a Pecan Shell

Settled in the early 1860s, the town, like many in Texas, didn't really get started until the arrival of the railroad. In Bowie's case the year was 1882 and the railroad was the Fort Worth and Denver. In August of that year a townsite was laid out and a post office applied for. Bowie almost instantly became the most important market and banking center between Fort Worth and Wichita Falls.

The population reached 1,000 by 1885 and eight years later the town got its second railroad, the Chicago, Rock Island and Texas.

The population for the 1900 census was estimated at 2,600.

Bowie had around 3,000 people during the 1920s and by the 1950s, it was approaching 7,000. It reached its zenith in the late 1980s with 5,818 residents, making it the largest town in Montague County. It dipped to 4,990 for the 1990 census and rose to 5,219 in 2000 and the present 5,218 (2010).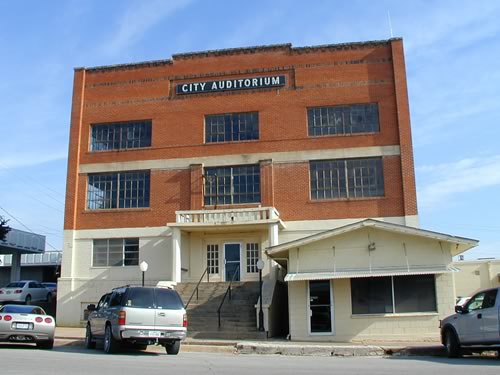 "This style of building was common in 50's or so for car dealerships."
- Mike Price, October 2007 photo
Bowie Texas Centennial marker
Photo courtesy Holly Gibson, April 2015
---
Texas Escapes, in its purpose to preserve historic, endangered and vanishing Texas, asks that anyone wishing to share their local history, stories, landmarks and recent or vintage photos, please contact us.