Indian Gap, 1920s
Photo courtesy texasoldphotos.com
History in a Pecan Shell

Indian Gap's name came about when it was noticed that the Comanches came through this gap in the mountains when they would raid the settlers. We have to admire the stoicism and powers of observation of the settlers, who you would think would be fleeing in terror, rather than noting the route of their enemies.

1857 is the date the Handbook of Texas gives for the first settlement of the area. A Mr. Hawley Gerrells was credited with opening the first post office in his home, which soon became a store. Church services were held there as well, and it was said to be a social center of the community, whatever that meant in the mid -1800s.

A man by the name of H.A. Shipman farmed the area for several years before buying out Gerrells' store and post office in 1889. Although the community never reached a population rivaling the colossus of Goldthwaite or Hamilton, nonetheless, it had a hotel, and a weekly newspaper as well as the usual businesses essential for 19th century life.

The school closed in 1959 (see forum below) and the post office shut its doors in 1972. The estimated head count in 2000 was 27 people.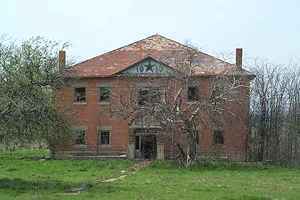 The 1913 Indian Gap School
Photo courtesy Jason Penney, whose grandfather and other relatives once attended the Indian Gap school
Another view of Indian Gap today
Faded lettering reads:
Carl Reinert - dealer in General Merchandise
Photo courtesy Jason Penney
Indian Gap, Texas Forum
Texas Escapes, in its purpose to preserve historic, endangered and vanishing Texas, asks that anyone wishing to share their local history, stories, and vintage/historic photos of their town, please contact us.


Subject: Indian Gap
Indian gap Texas is where most my family is from. There is a date as to when the Indian gap school was closed. In the article it said 1950. The school closed in 1959. I know because when I was 5 years old visiting my grandmother who lived in the house that is just across a field from the school, I played with some kids who attended that school. My family is buried in the cemetery there. I have wonderful memories of my visits as a little girl. Tommie's store and filling station was opened and the post office was also still there until almost 1970, I think. In the early 60s they had the old fashion switchboard operator where all your calls went through the switchboard, and my grandmother had an old phone that hung on the wall of her dining room that you had to turn a handle on the side to get the operator. I love visiting there even now, because I have such wonderful childhood memories. - Susan Deluca, July 16, 2011

Indian Gap Area Hotels:
Brownwood Hotels - Book now
Stephenville Hotels - Book now
Custom Search
Save on Hotels - Expedia Affiliate Network