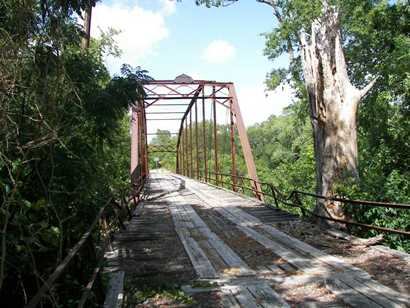 History in a Pecan Shell

Benjamin F. Bryant built a fort here in the 1840s as a defense against hostile Indians. Being on the river and on the Austin to Marlin stageline the town became a prosperous settlement and it seemed to have bright prospects. Several post offices (including one opened under the name Blackland, Texas) opened and were discontinued between the 1840s and 1870s. As the Gulf, Colorado and Santa Fe Railroad approached the town in 1881 - Bryant Station lost out to rival Buckholts. Bryant Station waned as Buckholtz waxed.

A Texas Centennial marker was erected at the site in 1936 but as early as the 1940s, after most residents had left and school consolidated with Buckholts ISD (1941) the town had become a virtual ghost. Today, the marker, bridge and cemeteries are about all that's left.
Bryant Station bridge date plate
Directions to Bryant Station Bridge:
"(This sounds complicated but it isn't really if you keep your cool) On Texas State Hwy 36 leave Rogers southeast and go 3.3 miles or from Buckholts go northwest on Texas 36 4.1 miles. Then southwest on County Road 104 for 4.0 miles, the road makes a right angle turn to the southeast, then turn southwest on County Road 106 0.8 miles to the Bryant Station Bridge. Before getting to the bridge there is a sign to the Bryant Station Cemetery. The road is hard packed dirt and gravel. It would help to have a good county map. Enjoy." - Barclay Gibson, January 10, 2007
Sugarloaf Bridge of Milam County
... I discovered another metal truss bridge, or at least what I suspected was a metal truss bridge, that crossed the Little River in Milam County, approximately 40 miles from the Bryant Station location... The exact location is about ½ mile north of Gause on Farm to Market Road 2095, then north on County Road 264 approximately two miles. The road then crosses the Little River... more