For the last 35 years Calvert has enjoyed a relative success as an antique "capital."

Steady traffic on Highway 6 and the towns halfway position between Waco and Bryan / College Station has helped. The efficiency of the town's tag-team police cruisers is something to behold.

Calvert's buildings present an attractive row of 19th century buildings. The length of main street is evidence of the town's once prosperous history. Although many are now just facades, Calvert makes an excellent case for saving the fronts of buildings, even if the interiors cannot.
Calvert Landmarks / Attractions / Images
Long shadows and light traffic in downtown Calvert
The original sign has been altered to read First Star Bank
Citizens Bank & Trust Building historical marker
Calvert: Where enamel becomes watercolor.
The Jacques Adoue Building stands next to the old theater.
The Jacques Adoue Building historical marker
A store that couldn't be saved becomes a main street lawn.
Looking through the back of Salazar's Garage
A wet Spring has provided some deep green (May 2008)
Same building on the side.
Bloodweed, Brick, Stucco and Paint
A decoupaged map of Calvert sits in a front window.
Weathered brick melts into a shared wall.
The front wall of Salazar's Garage is now braced by wooden beams.
Calvert's Southside as viewed from the Northside
Calvert was multicultural years before the term was coined. Several Black families retain Chinese surnames to this day. Calvert's Chinese are mentioned in Mel Brown's book: Chinese Heart of Texas.
Above photos courtesy Stephen Michaels
History in a Cotton Boll
One of the earliest settlers was Joseph Harlan, who received a land grant in 1837. The town's namesake, Robert Calvert, established a plantation here around 1850.

The Texas Central Railway laid tracks to Calvert in 1868 with the trains arriving the next year. Population was drawn from the communities of Sterling and Owensville and in time, Calvert replaced Owensville as the Robertson County seat of government.

A post office was granted that same year (1868) and Calvert prospered as a cotton shipping point. In the 1870s the town reportedly had the largest cotton gin in the world.

In 1873 a severe yellow fever epidemic killed many in the community. In 1899 the town suffered floods and in 1891 a fire burned much of the town's center.

Population estimates over the 20th Century:
1900: 3,322
1910: 2,500
1925: 2,100
1950: 2,100
1965: 1,950
2000: 1,400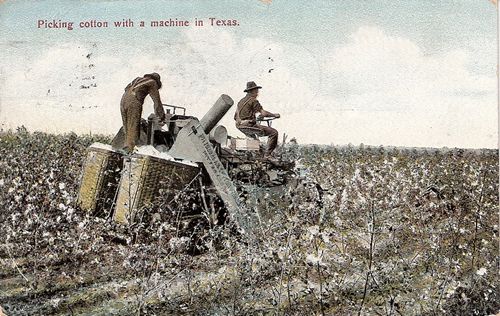 Eloia Theatre, "named after the wife, Eloise, who owned the theatre... The theatre burned, probably late 40's or early 50s, and what remains is the modern updated theatre. It had a cry room, double seats, and was very modern."
TE Photo, 8-03



The weigh station where they weighed cotton for the gin across the street - Gibson's Gin was one of the largest in the world.

TE Photo, 8-03
Calvert Texas Forum

Subject: Theatre and Weigh Station
The name of the theatre in Calvert is Eloia, named after the wife, Eloise, who owned the theatre. She sold tickets. Her husband operated the projector and did various jobs around the business. The owner of the antique store next door to the theatre bought the theatre years ago, and made an opening through to his business. The theatre burned, probably late 40's or early 50s, and what remains is the modern updated theatre. It had a cry room, double seats, and was very modern. However, just after it was built, wide screens and television came in, which hurt all the old theatres.

The weigh station where they weighed cotton is across the street from the cotton gin . The old scale was still there the last time I looked at it, which was some years ago. The cotton gin was the Gibson's Gin and one of the largest in the world, as well as one of several in town.

The Conitz Dry Goods Store opened on that corner in 1901. It was burned and rebuilt 3 different times over the years. The latest store was modern for the '50s. - Former resident, December 11, 2004


Calvert's Out-of-the-Way Cafe
Howdy, Just wanted to say how much I am enjoying y'all's website!! You are doing a great job. I'm not from Calvert but I went there on my most recent day/antique shopping/road trip and had a really nice time. There is a little cafe/grocery store/meat market that is on the back side of town on a road that I don't even think is paved. We were in an antique store and heard the old man behind the counter calling in his lunch order and just had to find out where this place was!! It was the cutest little place, filled with locals sitting on duct-taped booths next to soda machines. Basically, it was all run by what seemed like one African-American family from the ordering & cooking to bringing us our food to refilling the sweet tea jug sitting on the counter. After enjoying our $5 meals of fried chicken, baked beans, collard greans, macaroni & cheese, cornbread, and banana pudding, we left with a full belly and truly knowing the meaning of southern comfort. Just thought I had to let y'all know about how special this place was! It truly deserves to be featured [more] and get some fame somehow. Thanks! Anna Langford, June 14, 2006