History in a Pecan Shell

Although it had been settled in the 1830s with members of Austin's colony, the settlement only had the cabins of its people and two churches prior to the arrival of the railroad. John H. Stoneham, was the landowner / storekeeper who gave a right-of-way to the railroad in 1879. A post office was granted in 1890 when the town's population was a mere 30 people.

Ten years later with the arrival of the International-Great Northern Railroad, big plans were made for the town. The population had reached 250 and the Smith Land and Improvement Company of Beaumont platted the town (1901) and started selling lots.

Many residents were Polish immigrants and in 1909 St. Joseph's Catholic Church was organized to serve that segment of the population. The town was stable and thriving until 1932 when disaster struck in the form of fire. The business district was burned and no money was available for rebuilding.

The population in the mid 30s was 200, but after the end of WWII, people left in search of better jobs. The population fell by half by the late 40s.

The figure of 12 residents has been in use from 1970 to 2006 and the town still appears on the state map.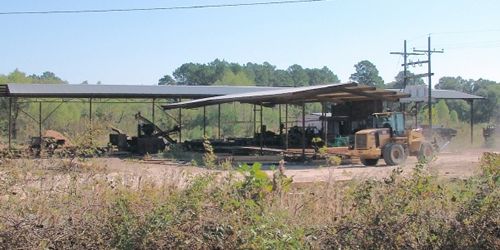 Sawmill (still working)
Photo courtesy Ken Rudine, October 2007
---
---
---
---