---
Houston County - East Texas is full of amazing history and natural beauty. Mission Tejas State Park fully encompasses both the rich history of East Texas and the natural wonder and beauty of the Pineywoods and affords visitors the chance to experience both to the fullest extent. Mission Tejas State Park is a 363.5-acre park nestled in Houston County, 21 miles northeast of Crockett. The park was constructed in 1935 and acquired in 1957 by Legislative Act from the Texas Forest Service, at which time it was open to the public.

The park was built in 1934 by Company 888 of Civilian Conservation Corps (CCC) as a commemorative representation of Mission San Francisco de los Tejas, the first Spanish mission in the province of Texas, which was established in 1690.

San Francisco means "Saint Francis." St. Francis of Assisi was born in 1181 and died in 1226. His influence assisted in the restoration of popular faith in the church which had been corrupted by wealth and politics. Saint Francis was the founder of the Franciscan religious order whose members seek to follow a life of poverty and devoutness. He was declared a saint by the Roman Catholic Church on July 16, 1228.

The mission was constructed to bring Christianity to the Indians dwelling in the Pineywoods and to secure Spain's domination over the territory, which would eventually become the great state of Texas. The mission served as a reminder for France, which occupied nearby Louisiana, that the territory belonged to Spain.

Tejas was the Spanish pronunciation the Caddoa Indian word meaning, "friends." The Lone Star State takes its name from the term "Tejas."

The mission became a stopping point for many adventurers and explorers such as Rene Robert Cavelier, Sieur de La Salle during the late 1660s. La Salle led the Spanish effort to settle with colonists and deny the French entry, thus establishing sovereignty over the area. In 1683, La Salle returned to France to gain permission for his colonization plans and received the support he needed to proceed. In 1684, La Salle left France and unintentionally landed at Matagorda in 1685. La Salle had intended to land near the mouth of the Mississippi River, but irtonically misread his map, thus landing on the Texas coast. Spain reacted defensively to La Salle's mistake and launched a manhunt aimed at La Salle.

It was at this time when Father Damian Massanet, a Franciscan friar, was assigned the task of inaugurating missionary activity among the East Texas Indians. Officials in the capital concluded that military presence would impede upon their mission of spreading the Gospel. In light of this, a proposed system of forts to bridge the gap between settlements in Coahuila and a new mission field were rejected. Rather, Massanet founded San Francisco de los Tejas, which became the first mission in East Texas, known as Mission Tejas.

The Spanish faced a long and perilous journey from Mexico to East Texas. They had to trek some 700 miles in order to supply the mission. The path these early travelers used eventually became known as the El Camino Real, otherwise known as the Royal Road or the King's Highway. The El Camino Real de los Tejas was originally a Native American footpath that adapted over time as the frontier expanded. The path eventually facilitated Spanish exploration into present day Louisiana, and even later Anglo settlers heading southwest.

In 1694, the mission was abandoned. The mission was extremely difficult to supply due to the long distance. Factors regarding the Native American Indians also played a role on the abandonment of the mission. Illness and death among Native Americans as well as their belief that baptismal waters were fatal, and missionary fatalities led people not to congregate at the mission.

Nearly 30 years later, in 1721, the mission was reestablished by Friar Jose Guerra. The mission was renamed San Francisco de los Neches. Approximately nine years after the mission was reestablished, the French were no longer a threat, however, there were very few Native American converts. It was still very difficult to supply the mission due to the great distance, and therefore was abandoned again.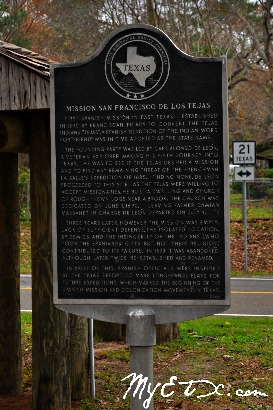 Mission Tejas Historical Marker
Click on photo for large image
Photo courtesy Dana Goolsby, 2011
Early settlers who traveled the El Camino Real de los Tejas were Moses Austin and later his son, Stephen F. Austin. Other Texans who traveled the trail include Sam Houston, Jim Bowie and Davy Crockett.

Time marched on and eventually more settlers arrived and constructed a log home. Joseph Redmond Rice Sr. and his wife Willie Masters relocated to Texas from Tennessee in 1828 and were among the earliest settlers of Houston County. The Rice's were a large family of 13. Rice became a self-sufficient and prosperous farmer in Houston County after securing a grant of 1,237 acres of land in 1841 from the Republic of Texas.

The home which Rice constructed between 1828 and 1838, is one of the oldest structures in East Texas. The home served as a stopover for immigrants, adventurers, and local residents traveling the El Camino Real. The log home was originally built 16 miles southwest of the park.

After Rice's death in 1866, his wife continued to live in the log home until her death in 1881. Family members occupied to log house until 1919. Rice's grandson, John Rice, relocated the house between 1919 and 1928, in order to use it as a garage or barn. After John Rice passed away his wife, Nancy Rice donated the log house to the state. In 1974, the log house was restored and moved to its current location in the park.
Mission Tejas State Park
Photo courtesy Dana Goolsby, October 2010
Mission Tejas State Park offers several activities including camping, picnicking, hiking, and fishing. A pond located near the picnic area offers an excellent opportunity to explore aquatic life and fish. Hiking and nature trails provide access to the natural beauty of the East Texas Pineywoods. Facilities include commemorative representation of Mission San Francisco de los Tejas; the restored Rice Family Log Home; picnic sites; campsites with water; campsites with water and electricity; campsites with water, electricity, and sewer; group picnic areas; a group picnic pavilion; restrooms with and without showers; a group camping area; an amphitheater; a trailer dump station; 3 1/2 miles of hiking trails; a playground; and a nature pond (approximately 1 acre in size).

Nearby attractions include Caddo Mounds State Historic Site and the Davy Crockett National Forest.


Mission Tejas State Park is located 21 miles northeast of Crockett and 12 miles southwest of Alto on State Highway 21. For reservations contact 512.389.8900 or for more information contact 800.792.1112 or 936.687.2394 or visit the state park website at www.tpwd.state.tx.us/missiontejas.

Elevation: Elevation ranges from 167 to 552 feet.
Weather: Average rainfall 42.2 inches. January average low is 35 degrees. July average high is 95 degrees.
Schedule: Open 7 days a week year-round. Office Hours: 8 a.m. to 5 p.m., 365 days a year.


© Dana Goolsby
This article was originally published on MYETX.com
"In The Pines With Dana Goolsby" April 20, 2012 Column
---