---
For a gunfight to be burned into the hide of Old West lore, it is requisite that one or more participants end up in Boot Hill.

That explains why the wild shootout that interrupted the quietude of Guthrie one day in 1905 rates only nine paragraphs in a 465-page book on the history of King County.

It began when the town's only physician, Dr. R.G. Wilson, went on a serious toot. Having self-medicated with way too much brown water, the good doctor had become annoyingly rowdy. Fed up with the doctor's boisterous conduct, hotel manager R.A. Simpson whacked Wilson on the head (with what was not reported) and kicked him out onto the street.

When he sobered up, it occurred to the doctor that he had been grievously insulted and he went looking for Simpson to settle accounts.

Encountering the hotel manager on the street in front of the town blacksmith shop, Wilson pulled his revolver and opened up on Simpson. The doctor fired five shots at the hotelier. Evidently more skilled with scalpel than six-shooter, Wilson missed every time.

In a clear act of self defense, Simpson unlimbered his .45 to return fire. Unfortunately, his handgun got tangled up in the fashionable turtle neck sweater he was wearing. By the time the hotel man had his weapon ready for action, Dr. Wilson had retreated to the courthouse steps. From there, he fired one more shot at Simpson, his pistol now empty. That shot also missed.

Not intending to give the doctor time to reload, Simpson took careful aim at Wilson and squeezed the trigger. The slug harmlessly zipped past the medico and slammed into the wall of the courthouse. Folks who had been inside at the time later claimed the big bullet's impact shook the whole courthouse. (Of course, it wasn't very big in a county that then had fewer than 200 residents.)

In a matter of moments, seven shots had been fired. It could have been an epic gun battle, but seven shots were clean misses.

Dr. Wilson entered the courthouse and walked straight to the sheriff's office. Dropping his empty weapon, he reportedly proclaimed to Sheriff Garrison Moore: "You might as well take this thing. It looks like I don't know how to use it."

While the doctor had apparently cooled down, Simpson remained exercised at having been shot at six times. Even though he still had four or five rounds in his pistol (depending on whether he kept one chamber empty for safety purposes), the hotel man went home to get his rifle, likely a lever-action .30-30.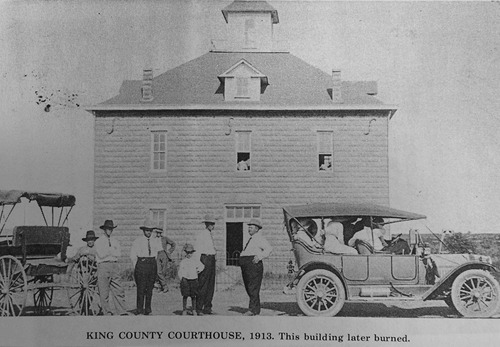 Thus armed, Simpson walked to the courthouse intent on dealing with Dr. Wilson. But before he got there, Sheriff Moore intercepted him and, as a later account had it, "talked him out" of the weapon.

Bloodshed averted, the county lawman charged both men with assault with intent to murder. Each, however, was acquitted.

Cleared of his legal troubles, Dr. Wilson decided to practice the medical arts in some other community. That left the small town with no doctor and no county treasurer, since he had held that office.

Not founded until 1891, Guthrie and the vast ranch country around it had the reputation of being a rough and tumble cattle town, but folks who thought that were mistaken.

Once the figurative smoke from the 1905 shootout had cleared, King County enjoyed a long spell of tranquility. An article in the San Antonio Express in 1913 noted that Guthrie's $15,000 county jail had birds roosting in its empty cells.

"Why, there's not another sheriff in Texas that has not taken a prisoner in three years," Sheriff Moore told a writer for the newspaper. "The town is clean morally, you can bet on that."

The sheriff said that Guthrie's reputation had been besmirched by those who thought the community and the "bad lands" that surrounded it were a haven for outlaws and murderers.

"Once in a while the boys [cowboys] indulge in a little hilarity, especially after pay day on the ranches, but they cause no trouble," the sheriff continued. "They like to ride through town and shoot a few shots in the air occasionally, but bad, not on your life," the lawman said.

Sheriff Moore, perhaps out of boredom, gave up law enforcement, moved with his family to Fort Worth and went to work for a local soft-drink bottling plant.

Three years later, however, Moore's successor in office, his nephew White Moore, confronted a mean-reputation drunk as he walked out of a saloon. The man went for his gun but the sheriff was faster, permanently curing the man of his drinking problem.

Still, as an El Paso newspaper noted in 1917 a year after the fatal shooting, no one had been arrested in Guthrie for 18 months. The office of justice of the peace was vacant and the county had no lawyers in residence. Neither did Guthrie have a doctor or a preacher.


© Mike Cox
"Texas Tales" February 23, 2017 column
More Columns | Texas Small Town Sagas
---
---
---