PALESTINE, TEXAS
Anderson County Seat, East Texas

31°45'29"N 95°38'19"W (31.757925, -95.638473)

Junction of Hwy 84, 79 and 19
108 miles SE of Dallas
150 miles N of Houston
36 miles SE of Athens on Hwy 19
ZIP codes 75800-75899
Area code 903
Population: 18,544 (2020)
18,712 (2010) 17,598 (2000) 18,042 (1990)

Book Hotel Here › Palestine Hotels
Oak Street
1917 Postcard courtesy www.rootsweb.com/ %7Etxpstcrd/
The Original County Seat was a town named Fort Houston. When the State declared that County Seats be at the geographic center of the county, Andersonians took them seriously and moved the two miles it required. Fort Houston melted into oblivion.

The County was named for vice-president of Texas Kenneth Lewis Anderson. There is a rumor that the city was named after Palestine, Illinois.
Palestine, Texas
Landmarks/Attractions
Palestine, Texas has 23 historical sites on the National Register of Historic Places
---
Postcard courtesy www.rootsweb.com/ %7Etxpstcrd/
The Texas State Railroad State Park & the Texas Forest Trail

Palestine is joined to nearby Rusk (25 miles) by the Texas State Railroad. This antique steam train is operated by the Texas Parks and Wildlife Dept. The train operates from March to October. 1-800-442-8951 for reservations.

Murder on the Disoriented Express
In October a local theater group performs Murder on the Disoriented Express on the train. This is a fund raising effort for the Palestine Library and the tickets include a buffet dinner. Make reservations by calling 1-800-659-3484.
Palestine's Texas Theater by Bob Bowman
The Texas Theater, one of the grand old movie houses of East Texas, has been restored and is now a setting for community stage productions. The Texas is not only a landmark for Palestine...

Texas Theatre by Dana Goolsby
The crown jewel of downtown Palestine
213 W. Crawford Street
---
Palestine High School
400 Micheaux Ave
Photo courtesy Lori Martin, December 2005
Museum for East Texas Culture
At 400 Micheaux Ave in Reagan Park

The museum puts to excellent use the former Palestine High School (c.1916). The Statue of John H. Reagan was sculpted by Pompeo Coppini in 1908 and was cast in Rome.


Historical marker:

Palestine High School

A public school system in Palestine was established in 1881 under control of the municipal government. The first classes were held at the old Palestine Female Institute (built in 1858), then a high school was built in 1888 at the Institute site on Avenue A. In 1915 voters passed a $100,000 bond issue for a new high school. The City Council chose this site in newly created, 22-acre Reagan Park for the campus.

Fort Worth architects Sanguinet & Staats were chosen for the design, which features Tudor Gothic -- or Jacobethan -- detail in brick, limestone, and occasional tile panels. The 2-story structure, on a raised basement, is framed with reinforced concrete, allowing ample window space for air and light. The original plan included eight lecture rooms, a library, a gymnasium, laboratories, and an auditorium.

A principal and 10 teachers comprised the first faculty, and the first graduating class in 1917 contained 38 students. This building became a junior high in 1939, and was named in 1955 for John Henninger Reagan (1818-1905), Texas statesman and Palestine resident. Elementary grades were assigned here from 1966 to 1976, when the school was closed. The building was then preserved and rehabilitated as a museum and cultural center.
Recorded Texas Historic Landmark - 1986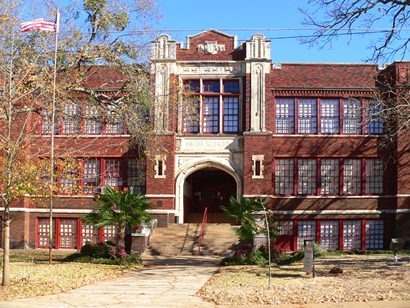 ---
Howard House Museum
1011 N. Perry Street.
A Texas Historic Landmark, the house was built in the mid-1800s and bought by the city in 1963.
Open Saturdays and Sundays 12:00 to 5:00, group tours by appointment.
---
Palestine Carnegie Library
502 North Queen.
502 N. Queen St., Palestine

Historical marker:
Outgrowth of 1853 effort by Judge John Graham Gooch to see circulating library established in Palestine, at first lending his own books. Original city library was replaced by this structure, built 1914 with aid from the Carnegie Foundation.
Recorded Texas Historic Landmark - 1970
---
Palestine Post Office and Federal Building
101 E. Oak St.
National Register of Historic Places
Photo courtesy Lori Martin, December 2005
Historical Marker:

Palestine Post Office and Federal Building

Land at this site was purchased in 1907 from St. Philip's Episcopal Church for a new post office for Palestine. Architects Deacon Armiger and Dunplap, under the supervision of U. S. Treasury architect James Knox Taylor, drew the plans, and construction took place between 1911 and 1913.

Located in Palestine's commercial district, the new post office building was an imposing addition to the downtown and prominently affirmed the presence of the federal government in Palestine. Other federal offices also were located in the building, including the Selective Service office and the National Weather Bureau's reading station.

The Palestine post office vacated the building in 1962; thereafter, until 1987, it was used solely for the offices of various federal agencies. After the General Services Administration declared the building surplus to its needs, the county of Anderson, in search of additional space for county workers, stepped in to preserve the historic building. The property transfer to Anderson County took place in 1990.

Listed in the National Register of Historic Places in 1998, the Palestine Post Office and Federal Building remains a significant part of Palestine's architectural heritage.
(2001)
---
---
Haunted Memorial Hospital
Photo by Dana Goolsby, October 2010
The Haunting of Old Memorial Hospital In Palestine
by Dana Goolsby

"The old hospital has been abandoned as a care facility, however locals claim the facility has not been entirely deserted. Supernatural tales have lived within the old hospital far prior to the closing of the facility...." more
---
The Anderson County Poor Farm
by Dana Goolsby

"[I]n 1884, Anderson County finally obtained its poor farm. The county paid $2,700 for approximately 462 acres, located south of Palestine on Sycamore Road. This acreage was part of 800 acres originally patented to Stephen Crist on May 21, 1835. ...more"
Postcard courtesy www.rootsweb.com/ %7Etxpstcrd/
The Ivanhoe Building
Photo courtesy Lori Martin, December 2005
Palestine, Texas
History and Features
Sunday Drive

Palestine: Old homes, fruit cakes, and stained glass windows
Excerpted from "The East Texas Sunday Drive Book" by Bob Bowman

The focal point of this Sunday Drive is Palestine, the county seat of Anderson County and a town whose history parallels the arrival of the railroad in the l870s. But you'll also have the opportunity to see some excellent rural scenery.

Start your Sunday Drive with a tour of downtown Palestine. The Chamber of Commerce offers an excellent walking tour guide which will carry you to several points of interest, including:.... read full article
Palestine, Texas Natural Attractions
Dogwood
Late March and early April is a wonderful time to visit. Anderson County has some of the nicest rolling hills and dogwood trees bloom in profusion just before the deciduous trees leaf out.


Davey Dogwood Park
Just north of town is Davey Dogwood Park, 200 acres of streams, trees and winding roads. The perfect place for a spring picnic. For information on current conditions call Texas Dogwood Trails Inc. at 903-729-7275.


Wisteria Trail
Palestine is also on the unofficial East Texas "Wisteria Trail."


Palestine Community Forest
There's another 700 acres in Palestine Community Forest. Just NW of town, this park offers memorable autumn views due to the proliferation of Sweetgum and Yaupon Trees.


Lake Palestine
Over 25,000 acres. Marina and swimming beach. Twenty miles north.


Concord
"The countryside around Montalba, north of Palestine in Anderson County, is among the most beautiful in East Texas with its small mountains, winding roads and scenic streams..."


Book Hotel Here >
Palestine Texas
Palestine, Texas Vintage Photos
Missouri Pacific Passenger Depot circa 1953, razed
On Spring Street, Palestine, Texas
Photo courtesy Maurice Higginbotham
Spring Park Lake and Club House
1911 postcard courtesy www.rootsweb.com/ %7Etxpstcrd/
View of Spring Park Lake from Club House
1913 postcard courtesy www.rootsweb.com/ %7Etxpstcrd/
The White Way, Spring Street, at night
1921 Postcard courtesy www.rootsweb.com/ %7Etxpstcrd/
New Temple Theatre
1914 Postcard courtesy www.rootsweb.com/ %7Etxpstcrd/
Palestine City Hall
Old postcard TE archives
Sycamore Street
Old postcard TE archives
"Anderson County Fair, Palestine Texas,
annually in October since 1925"
Postcard ca 1950 courtesy www.rootsweb.com/ %7Etxpstcrd/
---
Palestine Tourist Information
Palestine Convention and Visitor Bureau
825 Spring Street, Palestine, TX 75801
903-723-3014 or 800-659-3484

Palestine Chamber of Commerce
401 W. Main Street
903-729-6066
Book Hotel Here › Palestine Texas
---
Palestine, Texas Forum
Subject: It is wonderful town!
I was reading all the wonderful stories on my hometown of Palestine, Texas and it made me glad to be from a small town. It was great place to grow up and still is to this day. When I travel my mind often return to Palestine. I am now forty years old and I still get lump in my throat when at dusk the light come on Ave A all the way to the Anderson County Courthouse on top of the hill as it stand there in all it beauty. - Rodney Paul Smith, Palestine, TX, April 12, 2007
Texas Escapes, in its purpose to preserve historic, endangered and vanishing Texas, asks that anyone wishing to share their local history, stories, landmarks and recent or vintage photos, please contact us.
This page for Palestine, Texas sponsored by: Sandy Fiedler 10