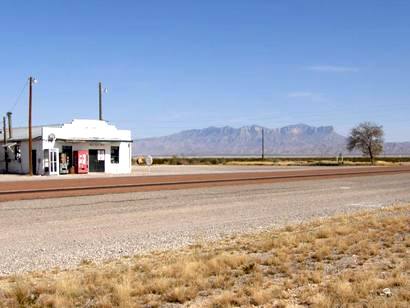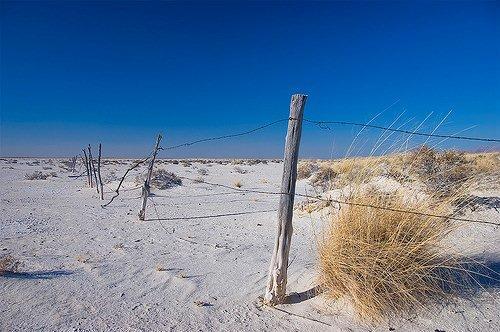 El Paso Salt War

Although the major events occurred just East of El Paso at San Elizario, the salt lakes here were the cause of the much written about San Elizario Salt War. It's an interesting chapter of Texas history and is usually included in most books written about the Texas Rangers.


You can check the Handbook of Texas Online under "Salt War of San Elizario" for the details, but in a nutshell it was a non-family feud that came about when a claim for title was sought for the flats which was thought by many (including the rival faction) to be public property.


During its seven-year simmer, the "war" claimed fewer than a dozen lives, but since it involved factions on both sides of the border and the Texas Rangers as well as the Army, it demands its place as a (rather large) footnote to El Pasoan and West Texas History. Because of the Salt War Fort Bliss was reestablished later the same year it had been abandoned (1877).

See Salt Warriors: Insurgency on the Rio Grande by Paul Cool
An award-winning history of the El Paso Salt War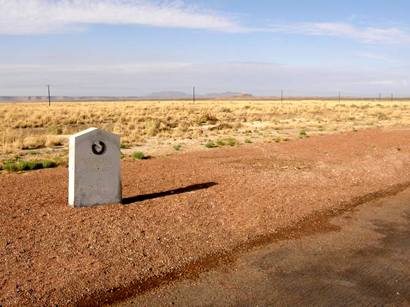 Salt Flat History in a Pecan Shell

The physical town of Salt Flat can be traced back to a vegetable farmer who sold produce in Van Horn. J.W. Hammack was his name and he was employed at nearby ranches just after the turn of the (19th) century. He raised a family here and in 1928 his son got wind of a planned highway connecting El Paso with Carlsbad, New Mexico. This valuable information was gotten from the highway surveyors according to T. Lindsey Baker's Ghost Towns of Texas.

Things were just opening up for the independent driver during this time as attested to by the opening of the numerous hotels in West Texas. (See El Capitan, El Paisano in our Rooms with a Past series.)

A store and gas station were potential gold mines and Hammack had the location. Almost immediately competition arrived and Salt Flat soon had 2 stores and 2 gas stations. Both store owners opened cafes and then "Tourist Courts," which were the forerunners of motels.

Flying over the Guadalupe Mountains was difficult before aircraft cabins were pressurized. An early passenger airplane crash in 1932 prompted the government to create an emergency landing field at Salt Flat. FFA personnel manned the field 24 hours a day until technological advances made it obsolete in the 1960s.
Visits to Salt Flat, Texas
Approaching Salt Flat from the west
Photo Courtesy Barclay Gibson, November 2009
Phoographer's Note:
"On entering a town it is not uncommon to have a reduced speed limit sign, 55 mph or even 35 mph, right there with the Road Sign. At Salt Flat there is the 75 mph sign as if that should be your minimum speed through the berg." - Barclay Gibson
Is the cup half full or half empty?
Photo Courtesy Barclay Gibson, November 2009
Honk - Courtesy Rest-Room
Photo Courtesy Barclay Gibson, November 2009
The salt came from shallow lakes that formed after rains in the Guadalupe Mountains. It was "mined" for cattle as late as the 1930s, but wells drilled in Dell City lowered the water table to where there was less and less salt deposited.

Photographer's Note:
"Don't confuse the salt lake with the 'town', Salt Flat. Two different and distinct entities, separated by about 5 miles." - Barclay Gibson
Salt Lake, aka Guadalupe Lake, War
Photographer's Note:
There is a second marker southeast of El Paso in San Elizario. Here are both. Note the similar but not identical wording on the markers. - Barclay Gibson
Salt War Centennial Marker
Photo Courtesy Barclay Gibson, November 2009
El Paso Salt War Centennial Marker Text
Resentment over private control of the salt lakes in this region, often called Guadalupe Lakes, led to the El Paso Salt War 1877 which entailed the loss of many lives and much property.
Salt Flat & Salt Flat Cafe
Salt Flat Cafe Turned 75

I just wanted to let you know that after the death of my mother, Isobel Hammack Gilmore, I have started taking care of the Salt Flat Cafe. It will be 75 years old on November 20, 2004. I don't plan a great big celebration but would like people to know that it is still in operation, we still have bus service and are still cooking good meals. We still offer the same friendly service that my Grandparents and Parents offered. Come and see us. I am still working on getting the many many pictures of the history my family left me. Thanks - Shirley J. Gilmore Richardson, June 08, 2004

Salt Flat Area Hotels:
El Paso Hotels | Van Horn Hotels
Ona Hammack, Ed Hammack and Isobel Hammack Gilmore
1929 photo on display in the Salt Flat Cafe
Photo Courtesy Barclay Gibson, November 2009
"We still have bus service"
Photo Courtesy Gerald Massey, November 2009
"We are still cooking good meals"
Photo Courtesy Barclay Gibson, November 2009
"We still offer the same friendly service that my Grandparents and Parents offered..."
Photo Courtesy Gerald Massey, November 2009
Pancho Villa Refugees
"The many many pictures of the history my family left me."
Photo Courtesy Barclay Gibson, November 2009
Subject: The "second" cafe in Salt Flat
I am a near-native of Salt Flat Texas. Though I was born in El Paso, my mother was from Salt Flat. My grandparents, Clyde and Catherine Grable, owned the "second" cafe in Salt Flat. I remember it well, as we lived there for a number of years and spent many vacations there. It was a wonderful place for a boy to live, full of hot sun, thunderstorms, horned toads, bats (lived in the garage), snakes and other desert dwellers. As a teenager spending the summer, walks across the desert with a 4/10 shotgun in hand was heaven. There are many adventures that occurred naturally there that now, seems more adventurous than the urbanized/civilized man I've become. My parents are both alive, though my grandparents have passed on. Eighteen years ago I visited Salt Flat, many years after my grandfather sold it. Nothing remained that I remembered and the only thing remarkable was the amount of grass visible, nurtured from the sand by a rare rainy season. Though I would like to hear from others who might remember my family, I'm not sure any survive. There are many stories, names and events I know we could hash over. Perhaps, if anyone remains, we could talk about going to the movie in Dell City, or "headlighting" jackrabbits on the airstrip or back highway to Dell City, or picnics at McKittrick Canyon or visits to Ma and Pa Glovers at Nickel Creek. I know my mother was glad to leave there, but I wish it was a place to which I could return.

I would be glad to hear from others concerning Salt Flat. There is a lot of history, both personal and "Texas-type" that would be fun to share. My email address is mbmlpcctl@hotmail.com. Please share this. Thanks for your time, Mike Mitchell, June 03, 2006
Subject: Clearing the First Rangeland, and the Salt Flat Cafe
I may be the only person alive today that helped clear the first rangeland near the location where Dell City is today.

In 1946 a group of Lynn county farmers went to Salt Flats to grub out the Mesquite trees and turn this ranch land into farming land. Thad Smith and his brother Ores Smith. Thad Smith owned the Hd 14 Alas Chambers Crawler that the grubbing ploy was mounted on. The two drivers of this rig were Harley Smith, and JB Williams. Harley and JB were brother in laws, Vera Harley's wife also lived at the camp or near by, they slept in their 40 model Ford. Camp was a little shotgun one room house that most of us slept and eat in, everyone had his army cot and a change of clothes.

I remember the old Cafe. I think it was sort of a cafeteria style back then. We had been home for a few days and were returning to camp and back to our jobs and we would always stop at Salt Flats and have apple pie and coffee. On this trip JB and his sister Vera had brought along their (Getair) and Mandolin, and they played on and on and on, everyone would holler one more time. Pilipino Baby.

To get to the place where we camped we would turn north just east of the Salt Flat Cafe and down a cow trail road through I think seven gates, I know I got smarter as I would always try to set in the middle so I wouldn't have to open those gates, I was just a boy at the time, my job was burning the brush that my dad and uncle raked up into big piles. With a big rake they had invented and welded with our little farm welder and hauled all the way over to Salt Flat on a bob tail truck.

The first crop that was planted was Alfa, it didn't turn out very well because they had the land in borders, and were going to use flood irrigation like they use to do over in the Hondo valley, well the water wouldn't flow the way it was supposed to and Mr. Stone, the big boss decided to level it after it had been planted so all of the Alfa ended up at one end of the field.

The thing I remember most is how that dirt would make my hair stand straight up and my mom would say I looked like I had been plugged into a light socket, I was 14 years at the time. I worked through the summer and up into the fall then had to go back home and go to school, we were always late getting into school as we would have to pull cotton to pay for shoes and a coat to wear to school, that was the good old days.

There was a government trapper working that area back then and he would stop by our camp every time he was in that area and I would get to go with him and help him run his trap line. Coyotes and Bob cats was what he would catch most of the time. When the rabbits ate up the cotton I'm sure there were folks that would have liked to have had the Coyotes and Bob cats back.

Dad and I, along with my wife and son and my mother drove over to Dell City in 1958 just to see the town and to look around some and we felt kind proud that we had a little part in making that happen, we were the first ones to acutely start the farms. They pumped the first water into reservoirs and that was part of my job at times to watch for Gopher holes in the dam's, it would wash out in a short time and no way you could stop it once it got ahead of you and that shovel.

I have rambled on more than I should have but when I saw your story and how you had opened the old Cafe up again it brought back lots of memories, and all the folks that I went out there with are all gone on but they are the ones that got it all started. Thanks for listening I would like to do it all over again. - Glen Lowe, Lubbock, TX, August 08, 2005


That excellent, definitive style is present again in the Salt Flats article. I cannot begin to express the extreme enjoyment I received while reading the story and allow me to also offer "congrats" to Jason Penny for the excellent photos, which really added to the "being there experience". - Mike Gerrick

El Paso Hotels > Book Your Hotel Here & Save
Subject: The Mayor of Guadalupe Pass
Dear TE, I am elated to find your magazine and your article on Guadalupe Pass. I was once called the Mayor of Guadalupe Pass. This may seem strange but it's true. I lived two miles South of Guadalupe Pass for several years. I also lived at Salt Flat, Texas and taught (other) young men to fly from the Salt Flat Intermediate Landing Field. I climbed to the top of Guadalupe Pass long before it became a National Park and I fell in love with the entire area. This was back in 1948 and it was a once-in-a-lifetime experience for me. I flew by (and around?) El Capitan for many years en route from Midland to El Paso. My good friend Bertha Glover and her husband owned the Pine Spings Cafe.... Mrs.Glover received a letter one day from a lady in Fort Worth, addressed to "The Mayor at Guadalupe Pass." Mrs. Glover designated me to be the Official Mayor because she said she had that "authority." I did answer the letter as I figured a Mayor from Guadalupe Pass would. I have both of these letters in my files and will try to send them in when they are found. You are doing a superb service. There is a lot of lost Texas History and [only] a few of us Ol' timers still around. I might as well "fess up" - I was 86 years old in November this year. - Sincerely, David Finnell, Hurst, Texas, The Former Mayor of Guadalupe Peak, December 8, 2007

El Paso Hotels > Book Your Hotel Here & Save