Caution: Wild Curiosity next 20 miles
TE Photo, April 2001
Editor's Note:

We received a letter from a young reader asking about Woman Hollering Creek. Her alert and informed teacher suggested she contact us. This letter came not long after we read a piece by (Houston columnist and author) Leon Hale. In his column Hale complained that he's been asked about this particular creek scores of times, if not hundreds. His complaint was (and probably still is) that people expect columnists to know these things - when it's nowhere in the columnist's job description. He said something to the effect that he wished the Texas Highway Department wouldn't post such curiosity-piquing signs.

The reader mentioned that she was unable to find an answer anywhere - including the Handbook of Texas - Online or otherwise. So, in hopes that it will prevent letters, email and questions to columnists around the state - here is what we've heard.
---
The Creek
Firstly, The term "Woman Hollering" is probably a very loose translation from the Spanish. The widely-known legend of La Llorona, "the weeping woman" or "she who weeps" is told to children all over Mexico and the Southwestern U.S.

Letters (see forum below) offers another (more plausable) source for the name.

The creek does actually flow when there is sufficient rainfall although it may be reduced to a mere trickle. It flows toward New Berlin and St. Hedwig.
Woman Hollerin' Creek
TE photo, May 2001
The Story:

La Llorona is a fixture in the Mexican pantheon of restless spirits. The tale dates back to the Aztecs and like "urban legends" - it possibly arose from more than one source. Like proverbs - but more wordy - it's a morality story. Variations are included:

A girl, young woman / married woman finds herself "with child." The father of the child is:
A. not interested in fatherhood
B. runs off with another woman or
C. He's a new man that comes into her life who doesn't want children.

After giving birth, she then drowns the baby (your choice of gender)
A. out of despair and her inability to face parenthood alone.
B. For revenge, or
C. to gain the new man's attention by being unencumbered by child.The man:
A. still runs off with the other woman
B. wins the lottery and runs off with the other woman or
C. graduates from medical school and runs off with the other woman.

The only consistent facts in all the variations we've heard are: the child is drowned - it's the girl who is pregnant, never the man and she almost immediately regrets her act. She's always haunting the scene of her horrible deed; weeping, sobbing, wailing, bellowing, or hollering.

In some cases she has been said to appear headless - the wailing coming from her detached head.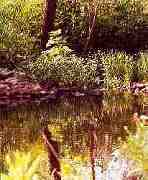 Woman Hollerin' Creek
TE photo, May 2001
Reality:

The sad, truth is that this does happen in real life - even today. A woman in Houston was seen throwing her 5 children off the Shepherd Drive Bridge into Buffalo Bayou not too many years ago (one died, 3 were rescued from the water and one was prevented from being thrown).

And of course, we all remember the Susan Smith case from not that long ago. Nearly every woman who spends her girlhood in Texas has heard the story.

Charley Eckhardt, of Seguin - author, raconteur, folklorist and Grandfather of the Decade, related that he knew of a sighting on the banks of Walnut Creek in Seguin, where the witnesses were totally and convincingly shaken by their encounter. Seguin's Walnut Creek isn't far from Woman Hollering Creek.

The late Ed Sayers included the tale in his excellent Ghost Stories of Texas. He mentions sightings on the Rio Grande in El Paso and on the Brazos at Waco. Docia Schultz Williams, the ghost authority of San Antonio, has at least one mention of La Llorona in each of her numerous ghost story collections.



So that's all we know - hope it helps. Now, when you see the sign - you'll know the story for your children or your traveling companion. Use whatever variation you like, but please, don't bother Leon Hale. (See Editor's Note)

We apologize if our version(s) differ from your grandmother's. - Editor


© John Troesser
Woman Hollering Creek Forum
Woman Hollering Creek as it flows southeast from its source ponds toward FM 1518 and further down where it crosses under I-10. Woman Hollering Creek empties into Martinez Creek just northeast of St Hedwig. - Ruben R. Hernandez, June 2007
Subject: Woman Hollering Creek
I am doing research on the short story "Woman Hollering Creek" and I found your page really interesting, especially the number of Anglo Texans very offended by the idea that the name comes from Mexican folklore, and the insistence that it must be based on a white woman who was captured by Indians....as if such a story wouldn't have been invented way back when by the very ancestors they say it came from "so must be true" ...very interesting how one story would replace another, and much too convenient that it would be one that reinforces our concepts of "Anglo Civilization" and the barbarous "Indians"...very interesting, Dr. Anne McGee, July 20, 2017


Subject: Woman Hollering Creek: San Antonio
The Myth Is: A Women drowned her childern and she was crying because she killed them. I've heard that you can hear her calling their names and weeping, I guess you'd say.
The Indian Myth Is Not True. - Crystal Martin, July 08, 2008


Woman Hollering Creek: Another Version of the Colorful Name
I have contributed stories and photos for Mackay and Falfurrias in the past. I came across your coverage about Woman Hollering Creek and since I live about three miles from the source of this creek, I'd like to add some additional information, and the attached photo. (See photo above)

I have lived in Universal City, just outside the front gate to Randolph Air Force Base, for over 45 years. I take my grandchildren fishing on the small ponds / lakes just south of the base golf course. These ponds are the source of Woman Hollering Creek. A map found on page 137 of Rand McNally's San Antonio and Vicinity shows its source, although the small ponds are not shown. The ponds shown on the map are within the golf course; although the creek's source ponds are outside the golf course boundaries. The attached picture shows Woman Hollering Creek as it flows southeast from its source ponds toward FM 1518 and further down where it crosses under I-10. Woman Hollering Creek empties into Martinez Creek just northeast of St Hedwig.

As I understand it, Webster's Handy College Dictionary defines "holler" as the verb/noun "yell". I would not confuse "hollering" with "weeping" as the legend of La Llorona implies. The legend of Woman Hollering Creek is totally different. The old folks in the Universal City area have told me that the woman "hollering" was actually a pioneer woman who went to the creek to either get water or to wash clothes and was attacked by indians, thus she "hollered" or yelled for help. A friend whose family owned a ranch for many years on Lower Seguin Rd, about 1/2 mile from the creek's source, vouched for the story several years ago. I passed the legend on to my grandchildren as we netted minnows at the source of the creek. - Sincerely, Ruben R. Hernandez, Universal City, June 28, 2007


Subject: Woman Hollering Creek
At one time, back in the early '80s, the Highway Department sign at Woman Hollering Creek actually did read Woman Hollow Creek. It stayed that for about a year until somebody got through to the folks who put up the signs & told them what the name of the creek actually was. This was when there was an effort to identify the names of all the rivers, creeks, & draws in the state & put road signs with the names on them. There are a lot of 'Five Mile Creek,' 'Fifteen Mile Creek,' & similar signs, because some of the creeks didn't have actual names. They were called "that creek you cross five miles out of town on the County Seat road."

Along State 16 below San Antonio there's Macho Creek. This has nothing to do with the modern usage of the word 'macho.' 'Macho' is the Spanish word for a gelded mule.

There's a creek in Seguin, tributary to the Guadalupe, that apparently has never had a name. At any rate, when the state tried to find out the name of the creek so a sign could be put up, no one--not even the oldest folks in town--could remember the creek ever having a name. - C. F. Eckhardt, September 06, 2006


Subject: Woman Hollering Creek
The local story I was told about Woman Hollering Creek dates back to the period of the Republic. Supposedly a woman from a local settlement--which settlement wasn't named in the story I heard--was kidnapped by Indians, possibly Comanches. Her husband and other men from the settlement pursued the Indians, but were outnumbered and couldn't rescue the woman. She was raped, tortured, and then murdered on the banks of the creek. The husband and his party could hear her screaming but were unable to help her. Supposedly her screams can still be heard on occasion. Be that as it may, on old Republic-period maps the creek now known as "Woman Hollering Creek" was called "Arroyo de la Llorona." - C. F. Eckhardt, Seguin, September 02, 2006


Maps dating from the 1830s give the name 'Arroyo de la Llorona' to the stream now known as Woman Hollering Creek. - C. F. Eckhardt, Seguin, April 30, 2006


Woman Hollering Creek is a real and sentimental story to those of us that are true to our South Texas roots. Get your stories correct, for the sake of Texas History. I just came across your website. After reading the info on WHC, I did not care to read more of your site. Sorry!! My loss. .....HA!! - Belinda Bell, July 05, 2005


I enjoy reading your website. In regards to Woman Hollering Creek, here is some information for you.

The creek itself starts at Randolph Air Force Base, in the back part of the base near the golf course. Randolph is 2 miles west of Schertz on FM78.

Once years ago, when we first moved here in 1971, I saw it on a map, but swear at that time it was called Woman Hollow Creek, though I could be wrong. The Texas Highway Dept. has county highway maps dating from the 1930s, so it would be easy to check the creek's original name.

In any case, the creek was used by both settlers and Indians for water. Probably one day, a woman came to get water, and saw some approaching Indians, and began yelling a warning, hence the name Woman Hollering Creek. Or perhaps, one of her children fell into the creek, again hollering for help. This is probably as good as any. ... .- Holly Hilpert, July 10, 2002
---
---
More Versions of La Llorona:
The Many Legends of La Llorona by C. F. Eckhardt
" I've been digging into La Llorona for nearly forty years. This article pretty much sums up what I've found."


La Llorona: Does She Seek Your Children? by Maggie Van Ostrand
Many versions of the tragedy of La Llorona (Weeping Woman) exist, but the basic premise is the same...