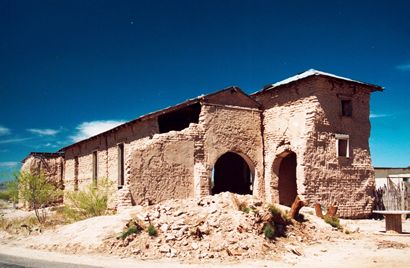 History in a Pecan Shell

According to the Handbook of Texas, the name translates as either "windy" or "noisy." This either refers to the omnipresent wind or the sound of water falling over an irrigation dam.

The settlement was once a penal colony established by the Spanish in the 1820s. Prisoners were sent to the remote area to guard ranches in northern Chihuahua against Indian raids. The uninspired prisoners were so often on the losing side that the project was abandoned.

Much later, in 1872, an American named William Russell constructed ditches to irrigate a farm and a flour mill - a successful operation that prospered for thirty years.

As late as 1879 the farm was attacked by Mescalero Apaches resulting in four settlers killed and three wounded.

By 1914 the community had a post office and 100 citizens. Cotton was planted and a gin constructed. In the late 20s there were about 300 residents in the area. The gin closed in 1936 and by 1954 the post office discontinued mail delivery. In late 2004 the town consisted of a few buildings and was listed for sale.

Ruidosa Texas Forum >
CR 2810 - Images:
Abandoned Truck Chassis in need of restoration
Photo courtesy Erik Whetstone, April 2005
Book Area Hotels

Van Horn Hotels
|
Fort Stockton Hotels
|
Alpine Hotels
|
More Hotels
Ruidosa Texas Forum
Subject: Family from Ruidosa, Texas
My father, Isaac Prieto Hernandez was born in this small village 6-3-1921. His two sister's were married in the old historical church, Carmen and Benita Hernandez. My father attended the school also pictured in the photos. The family moved to Marfa years later, then migrated to southern New Mexico. - Ben Hernandez, Artesia, NM, December 31, 2011


Subject: Ruidosa, Tx church picture
The picture of the church ruins is of a church in Ruidosa, Tx as you are leave heading toward Candelaria, Tx - Florencio Garcia, March 26, 2008


Subject: Family from Ruidosa
Dear TE, My grandmother "Reyes Negrete" was born in Ruidosa on April 12,1898, her parents were Sebastian DeAnda & Reyes Ochoa (maiden). They later moved to Van Horn, but I'm not sure of the year. Thanks for the pictures and information on the town. - Ben Negrete, September 21, 2007


Subject: Long line of Nunez in Ruidosa, Texas
Dear TE, My mother was born and grew up in Ruidosa, Texas. Her name was Dora Nunez and her parents were: Jesus F. Nunez and Maria L. Nunez. There was a long line of Nunez's back in Ruidosa who had businesses. My grandfather was the postmaster of the Ruidosa post office. My mother has wonderful memories of her town, Ruidosa. - J. Garcia, Alpine, Texas, January 29, 2007


Heartfelt Memories of Ruidosa
I was born in Ruidosa in 1940 and my grandparents were the only owners of the grocery store. They had a lot of land, and I just discovered not too long ago the Fuentes cemetery. When I saw the pictures it brought a heartbeat to my heart and I hope to go there one more time before I leave this world .. I was just 9 years old the last time I was there. We used to cross the river to get to the other side to visit the folks. Keep up the good work. - Catarina Fuentes, January 24, 2007


Subject: Photo of the Old Church
Last year about this time I visited Ruidosa, Texas and noted with interest the Old Church in ruins there.

Thanks for making these stories of these interesting places available. I'm fascinated by that country down there. - Jim Horn, April 02, 2006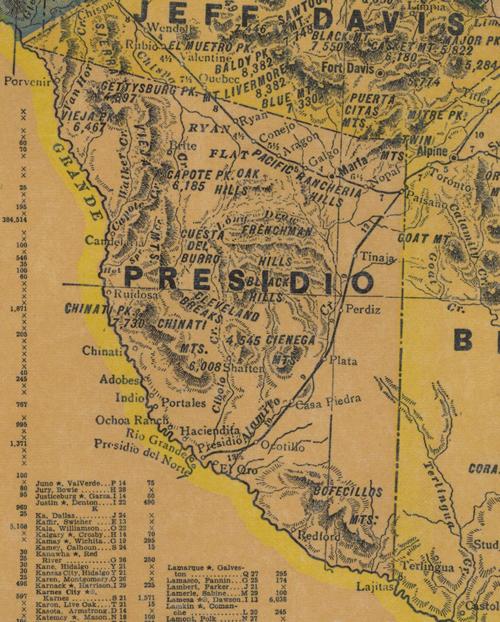 Presidio County 1940s map showing Ruisdosa
( Below "P" in "P-R-E-S-I-D-I-O")
Courtesy Texas General Land Office
Texas Escapes, in its purpose to preserve historic, endangered and vanishing Texas, asks that anyone wishing to share their local history and vintage/historic photos, please contact us.
Custom Search