Friona, Texas Topics of Interest:
History in a Pecan Shell

Friona began in 1898 as just plain Frio, Texas, a shipping point on the Pecos Valley and Northern Texas Railroad. There are two versions to the origin of the name. The most likely being that itís named after nearby Frio Draw. The less likely (but more popular) explanation is that residents named it for the cold (Frio) weather.

In 1906 the XIT Ranch was selling off some of its holdings and the site was surveyed for subdivion into farms. In 1907 when a post office opened the name was altered to the present form. Excursion trains brought in prospective buyers and many families stayed.

In 1908 Friona had a church, school, bank, hotel and even a photographer. The town lived up to the name of Frio with one blizzard in the winter of 1910-11 and another in 1918-19. By 1915 the population was up to 200 but the second blizzard as well as severe droughts discouraged further growth.

In the early 1920s new farming methods sparked a renewed land-sale. New people moved in and the town had a cotton gin by 1927. The following year a water plant was established as well as a fire department.

From a population of 731 in 1930, Friona grew to over 2,000 by 1960.

The Friona Wheat Growers Association has storage space for over three million bushels of wheat. In 1980, Friona became the largest town in Parmer County. In 1990 the population was 3,688, growing to the current (2007) level of 3,602.

Friona Historical Marker

Friona Attractions & Landmarks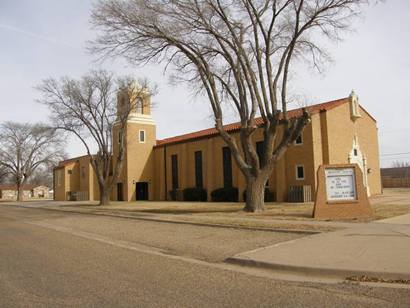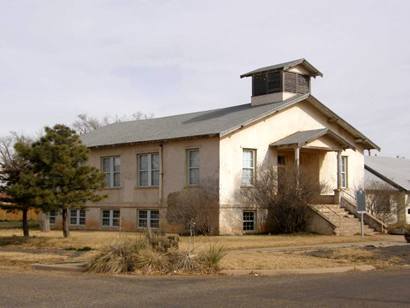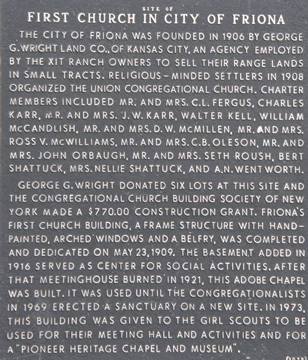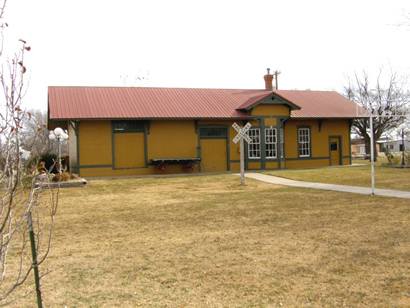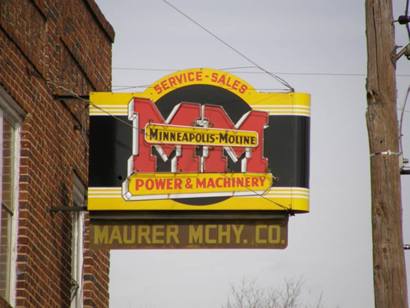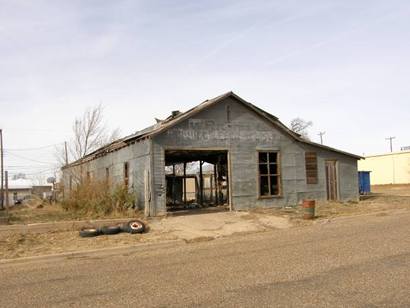 Historical Marker
Friona
When established by the XIT Ranch in 1898, this community was originally called Frio, after Frio (Cold) Draw, and it served as a shipping point on the recently built Pecos & Northern Railroad. In 1906, the George G. Wright Land Co. took options on area lands and initiated a colonization project, promising fertile land and a healthful climate to attract prospective settlers from Ohio to Kansas. The company erected a hotel, livery stable and a bank. The town's name changed to Friona when the post office opened March 16, 1907. Sarah D. Olson served as the community's first postmaster. That same year, Parmer County organized, and the Union Congregational Church became Friona's first church. A school opened the following year.

A controversy between Friona and Farwell over the location of the county seat led to an election in 1913. Voters chose Farwell and Friona residents contested the results, but a court ruled in 1916 in favor of Farwell. That year, S.A. Harris began publishing a local newspaper, the Friona Sentinel; it became the Friona Star in 1925. Residents voted to incorporate the city in 1928, electing John W. White as mayor.

In the latter part of the 20th century, Friona served as a regional marketing center for agricultural and beef products, and claimed the distinction of "Grain Sorghum Capital of the World." A June 1995 tornado destroyed the original historical marker for the community, and during the town's centennial year, 2006, citizens dedicated this replacement marker in City Park, across the street from the old Syndicate Hotel.
(2006)
Historical Marker - On 8th and Euclid
Friona Schools
Friona has the distinction of being the first town in Texas to integrate its schools. The first school opened on this site in 1908 in a one-room frame building, with Roxie Witherspoon teaching 18 pupils. A two-story brick school finished in 1911 burned after being struck by lightning in 1922. A new two-story brick high school opened in 1924. Attendance grew in the 1940s, when rural schools at Lakeview, Messenger, Black and Rhea consolidated with Friona. The school achieved its greatest fame in 1954. Racial segregation of schoolchildren was considered legal in the 20th century, reaffirmed by the U.S. Supreme Court in 1896 in the case of Plessy v. Ferguson. On May 17, 1954, the court overturned the decision, declaring segregation unconsitutional in Brown v. Board of Education. Chief Justice Earl Warren wrote, "we conclude that, in the field of public education, the doctrine of 'separate but equal' has no place." Federal and state government moved slowly to implement change, but in Friona, progress would not wait. The Robert Walker, Jr. family came to town in September 1954. When Superintendent Dalton Caffey chose to enroll Walker's three African American sons in Friona's only school, he quietly achieved the first integrated public school in Texas. Caffey then informed the school board of his decision, and things generally went smoothly for the school and new students. The Walkers moved away during the school year, and in the spring of 1955 three more African American students attended school here. Since that watershed year, Friona schools have continued to uphold Caffey's wish for equal educational opportunity. (2006)
Historical Marker - On 9th and Pierce St.
Friona Women's Clubs
By 1898, Friona and several other area townsites had been laid out as switches on the Pecos Valley & Northern Texas Railroad. Settlers soon began arriving in Friona, which incorporated in 1906. Twenty Friona women organized a club in September 1909, meeting in various places for many years while raising money for a meeting house constructed here in 1941. The group, which became part of the Texas Federation of Women's Clubs in 1922, generated three other clubs. Each group performed a variety of services, including tree planting, medical aid and founding of the Friona Public Library. The clubhouse has served as a meeting place for the Women's Clubs, as well as for the larger community.
(2005)
1940s Parmer and Castro County map
Courtesy Texas General Land Office
Friona, Texas - Texas Escapes' 2000th Town. February 2, 2009

Texas Escapes, in its purpose to preserve historic, endangered and vanishing Texas, asks that anyone wishing to share their local history, stories, and vintage/historic photos of their town, please contact us.