BARSTOW, TEXAS
Ward County, West Texas
Once the Ward County Seat
Hwy 80 and FM 516
7 Miles E of Pecos
41 Miles W of Monahans
Population: 346 (2010) 406 (2000)

Barstow, Texas Area Hotels > Pecos Hotels
Barstow, Texas Topics of Interest:
History in a Pecan Shell

Barstow is one of the rare towns in Texas where the founder/ namesake is buried in the local cemetery. George E. Barstow was an interesting man who came to Texas from Rhode Island (via New York) and was one of the leading world experts on irrigation.

The town was organized in 1892 and the courthouse built the following year.

The population in 1900 was over a thousand people, due to recruiting efforts of Mr. Barstow.

Irrigation was successful enough for Barstow to win a silver medal for grapes at the 1904 World's Fair. 1904 was also the year that fruit and vegetable farming received a nearly fatal blow when the Pecos River dam broke. Droughts followed and by 1918, farming was a memory.

The population in 1930 was 468 - less than half of the 1910's 1,219.

Barstow Landmarks > Barstow Photo Gallery
The First Ward County Courthouse
The former courthouse built in 1893 was razed in the 1950s. The red sandstone used for the courthouse was quarried locally and was also used in the construction of the first bank in Ward County.
The 1893 courthouse in Barstow as it appeared in the mid-thirties right before the move to Monahans.
Photo courtesy TXDoT
Historical Marker Text
Site of First Ward County Courthouse

A Three-story red sandstone courthouse with a domed cupola was constructed here in 1893, one year after Barstow was elected first Ward County seat. The first elected officials to serve in the courthouse were R. D. Gage, co. judge; S. D. McWhorter, co. & dist. clerk; W. M. Ware, sheriff & tax collector; John W. Phillips, co. attorney; S. H. Parker, tax assessor; J. B. Carson, surveyor; J. J. Walker, treas.; Pat Wheat, Comm. No. 1; W. C. Carson, Comm. No. 2; Pat Duracke, Comm. No. 3; and A. D. Irvin, Comm. No. 4. The landmark was razed soon after the county seat moved to Monahans in 1938. All that remains is a cornerstone.
1985
First Ward County Courthouse Historical Marker
On FM 518 & FM 873
Photo courtesy Barclay Gibson, 2009
Mackey Avenue Looking South from the courthouse
Early 1900s Photo courtesy texasoldphotos.com
Photographer's Note:
"By strict definition Barstow is not a ghost town but it sure blurs the distinction." - Barclay Gibson, 2010
Downtown Barstow. The white building is the former post office
Photo courtesy Barclay Gibson, 2009
The 1901 Ward County Bank
Recorded Texas Historic Landmark
Photo courtesy Barclay Gibson, 2009
Historical Marker Text
Old Ward County Bank

C. E. Pierce, an early advocate of irrigated agricultural lands for the Pecos River valley, had this building constructed in 1901 to house Ward County's first bank. Never incorporated, the bank lost money due to area crop failures and closed in 1907. Constructed of red sandstone from the nearby Barstow Quarry, the building exhibits influences of the Romanesque revival style and features an interesting corner entrance. Recorded Texas Historic Landmark - 1962.
Old Ward County Bank historical marker
Photo courtesy Barclay Gibson, 2009
The 1894(?) school in Barstow
Photo courtesy Lane DeWitt, 2005
Early Public Library Historical Marker
Photo courtesy Barclay Gibson, 2009
Barstow High School stadium scoreboard
Photo courtesy James Feagin, 3-2002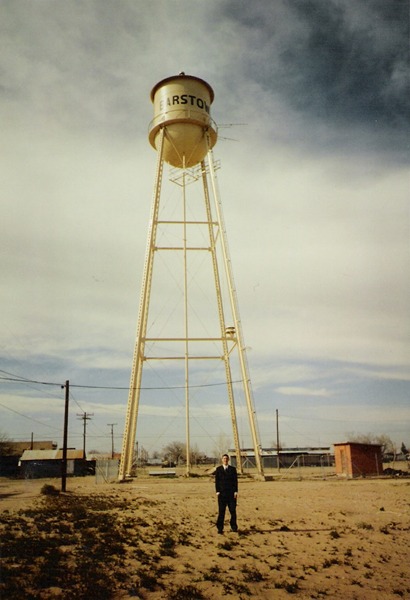 Barstow, Texas Forum
Subject: WWII - PFC Cruz Gamboa FOD Jan 18, 1945
I adopted the grave of PFC Cruz Gamboa at the Ardennes American Cemetery here in Belgium. I also build a tribute to Cruz see http://users.skynet.be/2ltmalrait_gilbert/gamboastoryE.htm , now is my question:
Cruz was from Barstow, TX, and I hope to find maybe new information on this man. Have you any tip where to search? Thanks in advance. - Philippe Vanderdonckt, vanderdonckt.ph@skynet.be April 14, 2012


Subject: Barstow: Shocked and Saddened
My husband and I visited Barstow in September of 2007. We had read about the history of this unique little place but words cannot match the sorrow we felt when we were actually present [to see] the isolation. We had purchased some "mystery acreage" and this visit was to discover just what was what. This can't be America, to let a town die is sad beyond belief. We spoke with "Jo" who had some connection with the water co-op and she explained that the town did not even qualify for any grants because they did not have a business that charged sales tax. I guess I am to believe if you do not have some sort of tax base you do not deserve any assistance to do anything. We are surrendering our property, because of the limited water supply, being told by more than one person that wells were 4,000 to 5,000 ft deep and didn't produce potable water. We would have to purchase all water but that too was not available because the "town" could not increase their request for more from Pecos. [It was] mind altering. [We] did not think a place like this existed, what could have gone wrong? There were not alot of wells working, but I was told the drilling now was for natural gas. Will this product have any influence on the outcome of this situation? Hope somebody comes to the rescue of Barstow. - Norm & JoAnn Deckant, Tampa, Florida, October 8, 2007
Texas Escapes, in its purpose to preserve historic, endangered and vanishing Texas, asks that anyone wishing to share their local history and vintage/historic photos, please contact us.
Custom Search