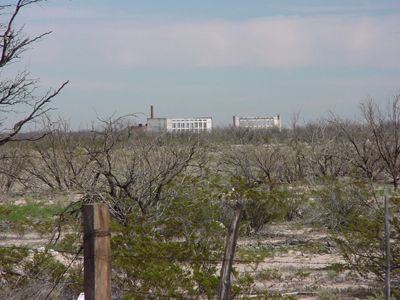 History in a Pecan Shell

Originally called Pyote Tank.

In 1881, before the Texas and Pacific Railway laid its tracks through the area, the company opened a telegraph office at Pyote Tank. The name for the town has been credited to the Chinese railroad workers' pronunciation of coyote. Other sources indicate it was named for the peyote cacti common to the region.

In 1885 J. A. Stewart established the 7S Ranch, covering forty sections, three miles south of the community. In 1907 a post office was established with Albert D. Pigman as postmaster. Also in 1907 Cicero S. Sitton and his sons opened a store, a three-day barbecue was held, and most of the town lots were sold. A school petition was circulated at the barbecue, and later a one-room school building was constructed. Eventually, a $100,000 school building was erected on land donated by Otey Nockells Rogers.

In 1925 the population was a mere 100 persons but when oil was discovered in 1928 it jumped almost overnight to 3,500. By 1931 it dropped back to 1,097.

Thirty-one rooming houses and hotels were quickly built. City services could not meet the needs of the increased population. However, the boom ended in the 1930s when the railroad built a spur to Monahans, eliminating Pyote from oilfield shipping. and 115 businesses. The town incorporated before 1933 and maintained its population through 1939, by which time the number of businesses had declined to thirty-six. By 1941 the population was reported as 201 and the number of businesses as fifteen.

In 1942 Pyote Air Force Station was constructed at Pyote south of Highway 80 on land owned by the University of Texas; it was used for bomber training. After World War II more than 4,000 bombers and fighter planes were sent to the Pyote base for melting into scrap metal. Among those stored there were the Enola Gay, which dropped the first atomic bomb, and Swoose. However, those two famous planes were rescued from destruction by the Smithsonian Institution.

In the early 1960s Pyote had a population of 420. Throughout the 1970s it had fewer than 200 people and either one business or none. In the 1980s it had a population near 400.

Pyote is the site of the West Texas State School and the Pyote Museum and Rattlesnake Bomber Base, which displays World War II memorabilia in an old building from the base.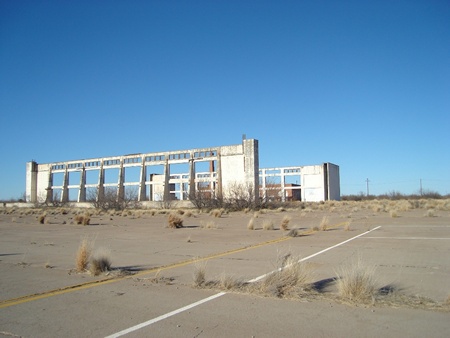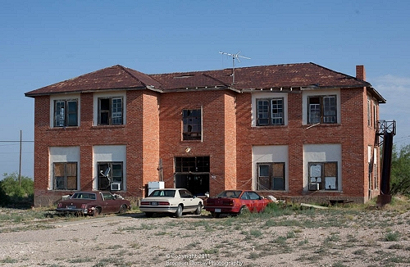 Pyote, Texas Forum
Subject: Pyote
The red brick building in Pyote that you refer to as the school is in fact the 'teacherage.' The school provided housing for the teachers. My mother and two uncles graduated from Pyote High School. My grandparents lived there from the 1940s until 1972. I had an aunt, a teacher, who lived in the building. These would now be called efficiency apartments in other towns. - Sandra Allen, Austin, December 12, 2012


Subject: BORN IN PYOTE TEXAS
My father, Avery William Vowell, Sr. was an instructor at the Pyote Air Base (Rattlesnake Field) when I was added to the family on May 20, 1947. I was born with a few problems, spina biffida being the most life threatening. I am told I was delivered by an old doctor (I do not know his name) who had never lost a baby and I wasn't going to be the first. I was flown to (I presume, Dallas) where I was operated on by a doctor who had just gotten back from New York where he attended a nation wide roundtable seminar of this malady, discussing treatment and causes. I was the first baby in Texas to undergo this surgery, and the odds were not good for survival, much less life threatening side effects (water on the brain, paralysis, stunted growth. Well, I survived with no major problems and the "ugly scar" on my back kept me out of Viet Nam. However the climate was too harsh and three months later, we moved to Tarpon Springs, Florida. We knew people in Monahans also, and it would be great if someone was still alive who might have known him or Cat Vowell. On a side note, to prove how small this world is, I was running a bowling center in Gadsden Alabama around 1972 or so, when I was Introduced to Ted and Edna (Squaw) Drennan. I placed them on a team with my parents and it turned out that they lived in Monahans at the same time we were in Pyote, but didn't know each other. They found out that they had many mutual friends and became the best of friends.

The reason for this letter is that I am planning a trip to Pyote and try to find the hospital, street address and the area where I was born. I understand the original court house burned down. If you can put me in touch with the proper people, places and archives that would shed some light on my odyssey I would appreciate it. - Glenn Vowell, Cairo, Ga., February 27, 2012, glennvowell@yahoo.com


Subject: Pyote, Texas & Pyote Air Base
I enjoy reading your reports on Texas towns, and the one on Pyote, in Ward County caught my attention today.

My father was a civilian mechanic at the Pyote Air Base (Rattlesnake Field) in the years following WWII, until around 1953. We lived in nearby Wicket, but during my first grade year ('51-52), my mother opened a restaurant in "downtown" Pyote and the family moved there. She served typical diner fare of the time, as I recall, including true chicken fried steak dredged in flour and fried on the griddle, not the egg battered and deep fat fried pseudo version purveyed today. There were several functioning businesses, including a "dry goods" store and a couple of gas stations at that time. The main street (U.S. 80) was curbed and guttered.

I attended school in the three story school building that has now become a kind of rural slum apartment building, complete with goats living in the building, last time I was there. But a public park and swimming pool has also appeared. When I was a kid we had no such thing.

I thought I had left Pyote completely behind after moving to Big Spring and eventually to Dallas. However, my wife and I were on a birding excursion to an offshore island on the Maine/Canada border in the late 1990s. A gaunt, garrulous old fellow with a military bearing also on the boat was explaining his life history to his trip mates, and I heard the word "Pyote." It turned out that he had been the commanding officer of Pyote Air Base during WWII. As he explained it, he was sent there because the army wanted to punish him for some imagined transgressions, so he was sent to the most remote location available. He claimed that he mostly spent his time flying around the desert. His transgressions must not have been so terrible, because he was later sent to a combat role, and retired as a 2 star general. Another entertainment that he mentioned taking place on the base was rattlesnake collecting and burning.

I remember the Enola Gay being at Pyote and sitting in the cockpit in my turn along with a couple of hundred kids on one occasion when employees and their families attended a Christmas party at the base. - David McNeely, Edmond, Oklahoma, October 18, 2011


Subject: General MacArthur's plane.
Dear TE, I really enjoy your write-ups [for towns in] Texas Escapes. I was reading the article about Pyote and would like to offer some corrections. Yes, the Enola Gay was there and in 1953 during Armed Forces Day it was on display and the public (including me) was allowed to crawl all over it - even sit in the pilot's seat. I'm sure I appreciate it now much more than I did then when I was 12. However, the comment about the Swoose being General MacArthur's plane is inaccurate. His plane was "Baatan." Please go to these websites for information: http://www.463rd.com/swoose.htm http://home.st.net.au/~dunn/usaaf/bataan.htm
Thanks, George Hollis, San Antonio, July 30, 2006

Pyote, Texas Area Hotels
Pecos Hotels | Fort Stockton Hotels | Monahans Hotels

Texas Escapes, in its purpose to preserve historic, endangered and vanishing Texas, asks that anyone wishing to share their local history, stories, and vintage/historic photos, please contact us.
Custom Search
Book Hotel Here - Expedia Affiliate Network