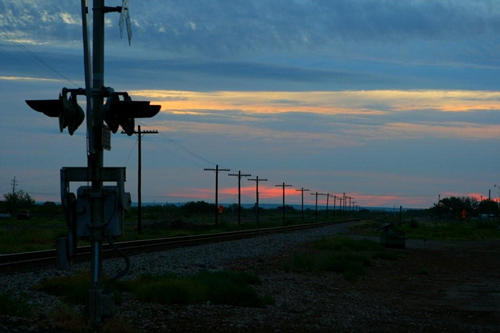 History in a Pecan Shell:

As hard as it is to believe - the town of Pecos was once East of the Pecos River. The popular slogan "West of the Pecos" wouldn't work very well if the town of Pecos was east of the river.

A Mr. George Knight who owned the land gave a small portion for a depot and a little more for good measure to the Texas and Pacific Railroad who laid tracks in 1881.

The evolution of the name was Pecos Station, then Pecos City and finally the simple utilitarian Pecos. After going through so many changes, they weren't about to change it when their portion of Pecos County became Reeves County in 1883.

They got a post office in 1884 and a bad reputation for violence shortly thereafter. We'd like to point out that the reputation had nothing to do with postal employees.

The name Pecos even evolved into a verb like "Shanghai". To "Pecos" a man was to ambush him, steal his horse and money and roll his body off a riverbank (which didn't have to actually be the Pecos River to qualify). Even though things have quieted down today, having Clay Allison's grave in back of the Orient Hotel (itself riddled with bullet holes) testifies to the town's legendary wild-west past.

During WWII Pecos Army Air Field was opened and the population of the town reached 6,500. The city nearly doubled its population in the 50s from 8,000 to 14,000.
Pecos cantaloupes are so famous, they'll loan money on them.
TE Photo, 2000
The effect of fire hydrants on West of the Pecos marigolds
TE Photo, 2000
Pecos Today
The entire downtown section of Pecos (Pay Cuss) is intact, with only one building gone due to a fire. At the north end of the main street is the railroad station. It's easy to spot - just look for the Union Pacific caboose in the middle of the street.
(Above) Texas & Pacific Railroad Depot in Pecos, Texas.
Postcard from the early 1900's, courtesy Mark Armstrong

(Left) The Old Texas & Pacific Station today. TE Photo, 2000
Next to the caboose is the headstone for Clay Allison, a notorious gunfighter who may have "died with his boots on" but actually his head was crushed by his own wagon.

You aren't a true West Texas town
without a gunfighter's tombstone downtown.

TE photo, August 2000
Today samples of Pecos cantaloupes are provided to summer visitors of the museum. The fame of the melons was spread because they were served in the dining cars all along the railroad's east-west route.

Pecos is one of the towns that must be included on your West Texas itinerary.
Pecos Tourist Information
The Chamber of Commerce:
111 S. Cedar St. 915-445-2406
Website: www.pecostx.com

Pecos Hotels > Book Your Hotel Here & Save