Inquiring at the office of the Fayette County Record for a progress report on the status of the Burnam's Ferry Centennial Marker, reporter-at-large Pancho Howze acknowledged our request by picking up his telephone and dialing Tom Muras, County Commissioner for southern Fayette County and a walking encyclopedia of information on the region.

Twenty-five minutes later, we were in Schulenburg (at an undisclosed location) being guided to a corrugated metal barn. Once within the building, our blindfold was removed and we saw the well-traveled marker, lying in meditative anticipation of its rededication – now scheduled for late summer/ early fall of 2011.

The marker lay on what appeared to be an antique cart similar to those once used at railroad depots across the country. It was under a plastic sheet – not unlike a body lying on a cooling board, waiting to be identified by next of kin.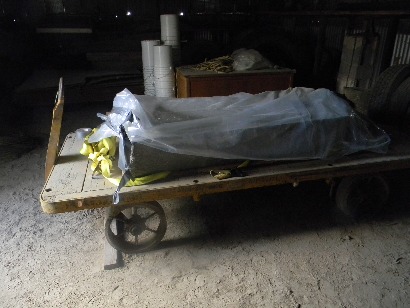 A recent inscription on the front mentions its relocation, but the old inscription is hidden from view on the back – waiting for the big unveiling.

After respectfully photographing the stiff, cold slab of granite, we were invited to an office where we got to meet Tom Muras, who now has the additional responsibility of protecting the marker until its placement.

With his tongue firmly in cheek, he informed us that he doesn't anticipate any "trouble" from Colorado County, but just to be safe, he might request a few guards armed with BB guns.

The rest of the all-too-short visit was spent swapping stories about the towns of Dubina, Ammannsville, and Schulenburg, and topics ranging from Preservation to vandalism. He revealed secrets of the famed "Piano Bridge" and how times are changing in this region that has successfully (and politely) resisted change for so many decades.

That's about all that can be said of the marker until the final installment of this saga – which will be the physical installment of the marker.

Although the marker commemorates the ferry crossing at the nearby Colorado River, it is being placed alongside FM 155, the connecting road between Weimar and La Grange, where it will be seen by hundreds of people weekly. This is probably a bigger audience than the total of all the people who have seen the marker at its previous site over all the years it was there.

July 2011 Update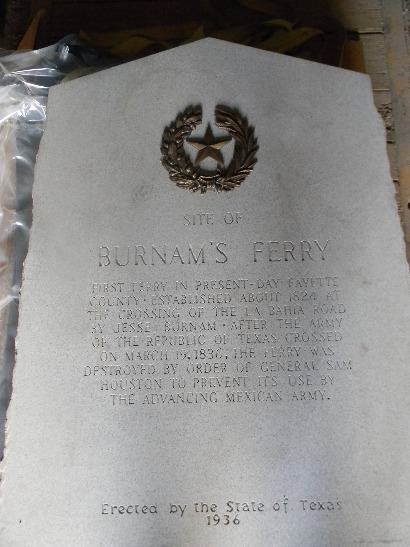 Site of Burnham's Ferry Texas Centennial Marker
TE Photo, July 2011
The Incredible Journey of Burnam's Ferry Centennial Marker:
---
Texas Escapes, in its purpose to preserve historic, endangered and vanishing Texas, asks that anyone wishing to share their local history, stories, landmarks and vintage/historic photos, please contact us.