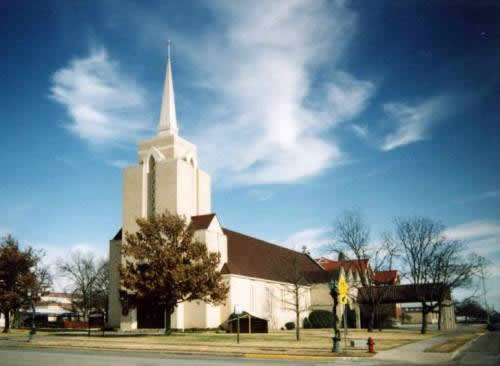 History in a Pecan Shell
The town was established in 1899 as a German Catholic colony and named after the capital of Westphalia, Germany. The Flusche brothers (Emil and August) were land agents under contract to sell 22,000 acres to immigrant settlers - within two years. The brothers had had success in Iowa and Kansas so even before platting a new town, settlers were transmigrating from their Iowa and Kansas homes. By the end of 1889, thirty-some people had arrived and on December 8, they celebrated a Mass by the Reverend H. Brickley of Gainesville. That date is considered the founding date of the town.

In 1887 Gainesville and Henrietta were connected by a branch line of the Missouri, Kansas and Texas Railroad which added Muenster as a stop. The population statistics for the early years aren't available, but in the 1980s, Muenster had 1,408 residents, many of them descendents of the original colonists.

The population reached 1,387 in 1990 and has since increased to 1,552.

Muenster holds a "Germanfest" each Spring.
---
Historical Marker (On US 82) Text
Muenster
In 1889 brothers Anton, August, and Emil Flusche contracted to sell 22,000 acres of this land along the Missouri, Kansas & Texas Railroad. Jot Gunter gave 25 acres for a school, church, cemetery, and park. The first Mass, celebrated Dec. 8, 1889, marked the official beginning of this German Catholic town. Despite drought, typhoid fever, and tornadoes destroying the first two church buildings, the area grew and farming and dairy business increased. Farmers established an insurance company and a marketing group for buying products in bulk. An oil boom in 1926 added to the prosperity.
(1979)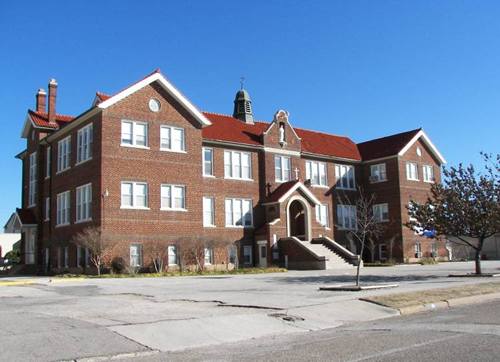 by John Hellman
(Professor of History, McGill University, Montreal, Canada)

Texas prairie wooden homesteads in east Texas were raised up two stories from that dry, unfriendly ground with the help of family and neighbors. The wherewithal could be ordered by catalogue and come to that place, like the people, on the "Katy" - the M.K.T. (Missouri, Kansas and Texas) railway – and be nailed together with the help of family, community, and the community's professional carpenter. According to family lore, the latter had been gotten drunk in Iowa and awoke to find himself in a cattle car heading west to a new life. Our family's lonely outpost, a long bumpy and dusty ride, out and up, far from the village which had grown outwards from the M.K.T. train station, seemed like an island afloat on a vast sea of land. There might have been a sign alongside that road saying: "civilization ends here". Only one distant windmill intruded on an empty, wide-open spaced, landscape that extended as far as the eye could see. The land around the farm, with its prairie dogs, jackrabbits, rattlesnakes, scorpions, chiggers and the occasional tarantula or wolf, was not particularly welcoming. Hot nights one was obliged to sleep on a mattress on the grass in the front lawn, or the small yard adjoining the breezeway to the summer kitchen, and suffer bites or rashes as a result. There was a grassy lane, with a few wind-battered trees, which ran down from the barn through the land to a creek with a few Spring and Fall waterholes but which mostly dried up during the punishing summer heat. The large, square, green moss-lined, water trough for the cattle did not invite bathing.

It was a rough, uncomfortable, but oddly secure place. Was that because there were very few passers-by, and great visibility in all directions? Decades later, staying in a quiet farmhouse on the snow swept grounds of a Trappist monastery in Quebec City, that world of a protective (and sometimes oppressive) silence, with a substratum of security, in harsh countryside returned.... more
---
Texas Escapes, in its purpose to preserve historic, endangered and vanishing Texas, asks that anyone wishing to share their local history, stories, landmarks and recent or vintage photos, please contact us.