Grave of Fannin and his men just East of the Presidio
TE photo, 2001
History in a Pecan Shell

The site of Goliad was inhabited by Indians prior to the Spanish establishing a mission and fort in 1749. The Mission was Mission Nuestra Senora del Espiratu Santo de Zuniga. The fort was originally Presidio Nuestra Senora de Loreto de La Bahia.

Both the mission and fort had originally been established in 1722 on what is presently Lavaca Bay, hence the designation "La Bahia" - Spanish for bay.

An earlier mission (Mission Nuestra Senora del Rosario) just west of town was founded in 1754 with the purpose of converting the Indians. The mission was quite successful in breeding cattle, but was abandoned in 1807. There's a marker on the former site four miles west on highway 59.

The mission (La Bahia) is considered to be the first large cattle ranch in Texas since it was successful in raising an estimated herd of 40,000. Goliad was set up as a Mexican municipality in 1829. The town of Goliad moved across the river to the present location in 1836 when the county was organized and it was made the county seat of government.

Later in its history, Goliad County was the scene of the "Cart Wars" - an ugly series of incidents in Texas history which was brought to a close by a legislative ruling and the employment of the large Live Oak on the courthouse lawn. Details on the "wars" and the Hanging Tree can be read by clicking here.
Historical Marker:
Goliad
One of the three first Texas municipalities. Old Aranama Indian village called Santa Dorotea by the Spanish. Presidio La Bahia and Mission Espiritu de Zuniga established 1749. Here early events leading to the Texas Revolution were expeditions of Magee-Gutierrez, 1812; Henry Perry, 1817; James Long, 1821.

Name changed Feb. 4, 1829, from La Bahia (the Bay) to Goliad. Honoring (in anagram) Mexican patriot (H)idalgo. Capt. George Collingsworth, Ben Milam and 48 men took Mexican garrison Oct. 8, 1835.

Goliad Declaration of Independence signed Dec. 20, 1835, and Goliad flag unfurled. Defender Capt. Philip Dimmit succeeded by Col. James Walker Fannin, Feb. 7, 1836. On order of Gen. Sam Houston to evacuate Goliad, Fannin on Mar. 19, moved toward Victoria. Overtaken 9 miles out by a large Mexican army, Fannin and his men battled until night, surrendered next morning. From La Bahia Prison they were marched out, massacred and partially cremated on Palm Sunday, Mar. 27, 1836. After Texas won independence, Gen. Thomas Rusk's army gave them military rites and burial, June 1836.

Goliad County Seat since 1836. Incorporated 1840 and built on present site. Received 4 leagues of land in grant signed by President Sam Houston, 1844.
(1965)
Goliad, Texas
Historic Landmarks / Attractions
Goliad is declared a National Historic District
The attractions are many in Goliad and you can easily spend the entire day. The chamber of commerce is located in the former Frels Theater on the south side of the town square (large building - small sign). They can supply you with a complete driving/ walking tour of the town.
The Grave of Fannin and his men
Off US 183, 2 miles S of Goliad
near Presidio La Bahia
See Goliad Massacre
Presidio La Bahia
South of San Antonio River
2 Miles S off US 183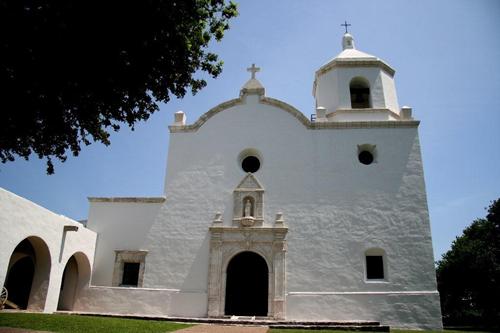 Goliad State Park & Historic Site
Goliad State Park & Historic Site consists of the land that the Mission Espíritu Santo Zuniga is on, and extends across the road below the Centennial Auditorium, which is next to the Goliad State Park, within the City Limits.


Presidio La Bahia - Located 1/4 mile south of Goliad State Park on US Highway 183 and 77A. Operated by the Catholic Diocese of Victoria.


Fannin's Men Memorial is just east of Presidio La Bahía.


Fannin Battleground - Now owned by The THC. It is no longer a part of the Park system.


Fannin Plaza Park - One block NE of the town square - obelisk, with a cannon used by Fannin's forces. Dedicated for the 50th Anniversary of the Goliad Massacre.


Goliad Town Square
Walking Tour: The chamber of commerce has a walking tour with some information on the collection of buildings downtown.
Buildings downtown include a handsome Bank, a former hotel, a Masonic Lodge and the Lott Building - a very thin building sandwiched between the buildings of the Cole Block.


Goliad Memorial Auditorium
A Centennial Building from 1936. Rather plain - as was the style then - but interesting details and ornamentation. This is the site of the Goliad County Fair


Market House Museum:
c. 1853 On the corner of Franklin and Market Streets


Goliad's Historic Trees:

The Hanging Tree (Cart War Oak)
The Baptist Oak
The Tree in the Street Sorority
Besides being declared a National Historic District, Goliad is also a member of The Tree in the Street Sorority - a loose group of cities whose citizens acknowledge that the trees were there before the settlers.
L - Street scene in Goliad Square
R - The former Frels Theater on the south side of the town square
is now the Goliad Chamber of Commerce
TE photos, 2001
L - Masonic Lodge
R - Lott Building - a very thin building
TE photos, 2001
Building on the square
TE photo, 2001
L - The trees have the right of way in Goliad
Center - Memorial Auditorium architectural detail
R - Architectural detail above a doorway
TE photos, 2001
A church in Goliad
TE Photo
---
Goliad Massacre
& Related Stories
L - The Fannin Monument in Fannin Square
R - Cannon used by Fannin and his men
TE Photos, 7-01
The base of the monument
TE photo, 2001
---
Goliad Nearby Destinations

See Goliad County
Do not miss Fannin, Refugio, Cuero, Victoria and Beeville.

Coleto Creek Park -
On Coleto Creek Reservoir
On US 59, 13 miles N of Goliad
361-575-6366
www.coletocreekpark.com


Goliad Local and Tourist Information
Goliad Chamber of Commerce -
131 Courthouse Square in the former Frels Theater
Hours - 9:00 am until 5:00 pm Monday thru Friday. 361-645-3563.
website: http://www.goliadcc.org/

Goliad County Economic Development/Main Street.
361-645-3540
website: www.goliad.org
---
Texas Escapes, in its purpose to preserve historic, endangered and vanishing Texas, asks that anyone wishing to share their local history and vintage/historic photos, please contact us.