History in a Pecan Shell

Originally named Grand Ranch, the town was founded by one J. Bearden sometime between 1850 and 1860. An improvised fort was built nearby during the Civil War when many of the men were away.

What's in a name?
Pay attention - there will be a quiz later.

About 1870 the townspeople moved to a site a mile east of Santo's present location. The town then changed its name from Grand Ranch to Calgando. Under Calgando the town grew with the addition of a gin and a mill. In 1880 the townsfolk moved again - to Santo's present site. This move brought another change in name - from Calgando to Cresco.

The name Cresco was confused with a town (about 50 miles west of Santo) named Cisco. The Handbook of Texas mentions that a disasterous train wreck was barely avoided due to the Cresco-Cisco mix-up. So in the name of safety, the town underwent another (third) change of name. It was now Sparta. But Texas already had a Sparta in Bell County and the post office didn't want a lot of misdirected mail, so Sparta became Santo, named either for John Santo Statti, the local Texas and Pacific Railroad agent, or from an early settler named J. A. Santo.

In 1920 Santo had its post office and a thriving population of 500. The population remained the same through 1936, but by 1940 it had declined to 350. The town reported 312 for the 1980 Census - a figure it has retained ever since.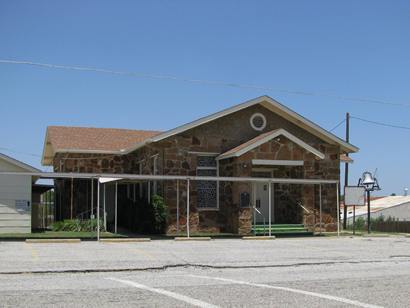 First Baptist Church of Santo
Photo courtesy Mike Price, July 2009
Preseveration at work
The restored old high school in July 2009
Photo courtesy Mike Price
Another view of the restored high school building
Photo courtesy Mike Price, July 2009
Santo Texas Forum
Subject: Santo, Texas
Dear TE, I read your profile and information on Santo, Texas. There is reference that the town was once named Cresco and this is correct. It further states that the town was renamed because the name Cresco was too similar to a town named Cosco and such confusion nearly caused an accident on the T&P Railroad when a telegrapher inadvertently keyed the wrong place for an on-coming train, but no reference could be found by your staff to a town named Cosco.

Actually, the conflict of names was with the town of Cisco, which is about 50 miles west of Santo and it too lies on the Texas and Pacific railroad. You might like to change your profile to reflect this. All other information seems correct. - Glen Taylor (born and raised in Santo), October 13, 2007