---
Buildings on First Street
Photo courtesy Terry Jeanson, September 2007
History in a Pecan Shell

The townsite was originally known as Willow Pond Springs. Captain Randolph Marcy's expedition passed this way in 1849 and a member of the expedition wrote his brother about the place's potential. In 1879 the brother - named Thomas Tucker occupied the area renamed the place Rice Springs.

The post office was established in 1885 and the community was renamed after a soldier who died at Goliad - Charles Ready Haskell. The county was organized that same year and Thomas Tucker became the first judge.

The Haskell Free Press became the first newspaper in 1886.

In 1900 the Texas Central Railroad reached Stamford and Haskell connected in 1906.

The town incorporated in 1907.

Just before World War II - the Lawson oilfield was discovered six miles east.

Lake Stamford was built in the 1950s to provide water for municipal, industrial and recreational use.

Haskell's population peaked in 1970 with 4,166 people.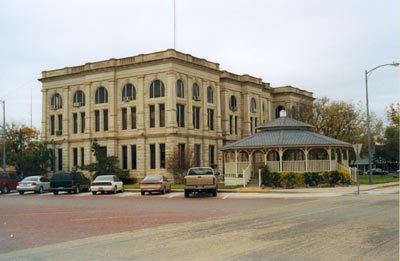 First Street, the main street in Haskell.
Photo courtesy Terry Jeanson, September 2007
Old 1927 City Hall building on North 1st Street.
Photo courtesy Terry Jeanson, September 2007
Texas Escapes, in its purpose to preserve historic, endangered and vanishing Texas, asks that anyone wishing to share their local history and vintage/historic photos, please contact us.
---