The L-O-N-G Roads of Texas
TEXAS HIGHWAY 16

by C. F. Eckhardt
Texas' state highways are some of the most interesting ways to travel. They pass through—not go around—interesting communities of every sort. The towns are both beautiful—sometimes (and sometimes not so beautiful)—and often historically interesting.

The two longest state highways in Texas are Highway 16 and Highway 6. Both cut across scenic and historically significant parts of the state.

Texas 16 branches off US 281 thirty-two miles south of Wichita Falls—or seven miles south of Windthorst, if you prefer. It finally terminates on the banks of Falcon Reservoir, in Zapata, on the Rio Grande. The first town it encounters is the community of Loving, named for Oliver Loving of the Goodnight-Loving trail. If you saw the TV mini-series Lonesome Dove, the character of Gus was based on Oliver Loving. Not far away is the headquarters of the famous JA ranch, once owned by John Adair, one of the founders of what is now the Texas & Southwestern Cattle Raisers Association. The JA ranch was the original headquarters of that organization.

Just off the road to the east is the site of the Warren Wagon Train massacre, one of the worst incidents in the Texas Indian wars. Seven teamsters were murdered in a particularly horrible manner by a band of Kiowas from the Fort Sill Reservation, led by a warchief usually called Setank or Satank. His name, pronounced phonetically, is closer to Set-An-Gay. Literally, it means 'Bear Pushes With Its Feet,' which is usually shortened to Kicking Bear.

In a confrontation straight out of a John Wayne movie, Setank and two of his subchiefs were arrested at Fort Sill and extradited to Texas to stand trial. Before the wagon carrying him got off Fort Sill Setank tried to escape—or may have been trying to get killed rather than face 'white-man justice.' He was shot and killed by his guards. The other two were tried in Jacksboro for the murders of the teamsters. Both were sentenced to hang. One committed suicide in prison by leaping headfirst from a third floor window onto a stone-paved courtyard. The other converted to Christianity, was eventually pardoned, and became a Methodist missionary among his people. The actual instigator of the massacre, a medicine man called Owl Prophet, was never prosecuted.

South of Loving the road goes through the town of Graham. Graham is a jewel—one of the prettiest towns in Texas. It's also centered in an oil patch, and there's no pretty way to enter the town. Every approach road is lined with oil-field equipment yards. Don't miss Graham's downtown park. It's a real beauty.

Near Graham is Ft. Belknap State Park. Ft. Belknap, one of the string of frontier forts established in Texas, was extremely prominent during the Indian Wars. It was from Ft. Belknap that General Phil Sheridan departed for Fort Richardson, near Jacksboro, on the same day the Warren wagon train was attacked. Sheridan's wagons used the same route as the Warren train, and passed the ambush site while the Kiowas lay in wait. Owl Prophet told Setank "There will be two wagon trains to pass. Do not attack the first. It would be very bad to attack the first. You may attack the second safely."

At approximately the time Sheridan's wagons were passing the ambush site, he said to his aide "I don't see what these Texans are complaining about. We haven't seen a single Indian sign this whole trip." Late that evening a Warren survivor staggered into Ft. Richardson with the news of the massacre.

South of Graham the road skirts the north and east edges of Possum Kingdom Lake. The fishing there is said to be outstanding, and scuba divers have reported catfish of gargantuan proportions in the deepest parts. According to one I talked to, a catfish he saw "…could have swallowed a Volkswagen and it wouldn't have made a bulge."
The smokestack in Thurber
TE photo, 2001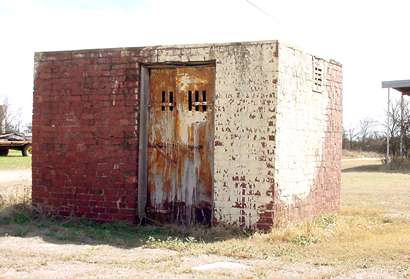 Below Possum Kingdom the road meets—and follows—US 181 for a short distance, then turns south again. At Strawn take a side trip to the east on Spur 108 to Thurber to see the Thurber tipple. Thurber, once a thriving community, was the site of a coal mining boom in the early years of the 20th Century. The great wooden coal tipple is about all that's left of Thurber.

Back on 16, the next town you encounter is Desdemona, once called Hogtown. Take a look at the old Desdemona jailhouse. It's worth seeing.

South of Desdemona, at De Leon, 16 crosses 6, the other 'longest state highway in Texas.' South of De Leon is Comanche. Have a look at the big oak tree on the courthouse square—Uncle Mart's Tree, it's known locally. You'll find a local to tell you the story behind it. It was in Comanche that 21-year-old John Wesley Hardin killed Brown County Deputy Sheriff Charlie Webb, his last-known killing. It was the only Hardin killing out of somewhere between 44 (my count) and 51 (his count) that couldn't, after Reconstruction ended, be justified as self-defense. It was also the only one Hardin himself said he regretted.

South of Comanche the road passes through Priddy and Goldthwaite and into San Saba. San Saba, besides being known as 'The Pecan Capitol of Texas,' is the burial place of Sion Record Bostick. Never heard of him? Sion Bostick was one of the 'five young Texans' who found a 'Mexican private' cowering in a creekbed after San Jacinto. The 'Mexican private' was none other than Antonio Lopez de Santa Anna y Perez de LeBron, President of Mexico.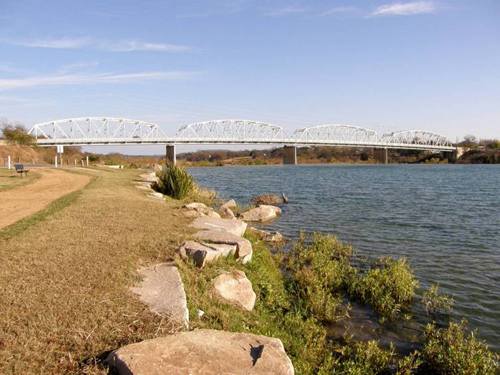 South of San Saba the road passes through some mighty pretty country, through the tiny town of Cherokee, and into Llano, the 'Deer-Hunting Capitol of Texas.' There's a lot more than deer hunting to Llano County, including the location of La Cueva de San Jose del Alcazar, the original Lost San Saba Mine. Take a side trip down Texas 71—another long highway—and look on the east side of the road for the historical marker just after you cross Honey Creek. After you read it, go down a piece to where Click Road branches off to the west. Stop there and look west. The mountain in front of you, today known as Riley Mountain, is the original Cerro del Almagre or 'hill of red hematite.' Look in the saddle of the mountain for two large liveoaks. At the foot of those two trees is the original Lost San Saba Mine shaft, today called 'Boyd shaft.'

A little farther down the road you'll cross Sandy Creek. You can, if you're absolutely determined, actually recover gold from Sandy Creek. It's flour gold—as fine as grains of flour—and before electronic concentration the only way to recover it was to amalgamate it with mercury and then boil the mercury off. Not only would inhaling the mercury fumes kill you, you'd spend more on the mercury than the gold would be worth.

Farther down 16, just out of Fredericksburg, you'll pass Enchanted Rock. If you happen to be there after a series of very hot days and camp at the park, if a norther blows in that night you'll hear where it got its name. The rock is made up of a series of layers, sort of like a huge granite onion. The outer layers expand with heat, and when suddenly cooled—like a norther hitting after a series of hot days—it gives off some of the most ghastly, unearthly groaning sounds you'll ever hope to hear as the outer layer, contracting in the cold, scrapes against the inner layers of rock. Most of the creeks in the area also yield tiny garnets and sapphires for the rockhound—but don't do your rockhounding in the state park. It's illegal.

Fredericksburg needs no introduction. The home of the Nimitz Museum of the Pacific War, it is home to some of the most interesting—and rare—exhibits of that conflict. One is a pair of panties and a brassiere crocheted from string scavenged off Care packages sent to the nurses who were captured when the Philippines fell. The Sunday House Café has some of the best wurst in Fredericksburg, and it also stocks Doppelspaten—'Double Shovel,' a German beer so dark it makes brown foam when you pour it. It's brewed according to the Bavarian purity law—all it can contain is water, yeast, malt, and hops—and the brewery's been in business since before Christopher Columbus's great-grampaw was born.

South of Fredericksburg the road goes through Kerrville, another town that needs no introduction. Home of the famous YO ranch and Schreiner College, now Schreiner University. Kerrville was also once home to the state's tubercular sanitarium. The high, dry climate of Kerrville was considered ideal for putting tuberculosis into remission.

South of Kerrville at the crossing of the upper Guadalupe River, you go down one of the last 'Model T' roads in the state. In coming off the bluff to the bridge below, the road is a series of switchbacks. These were necessary in the days of Model T and Model A Fords, since neither had an oil pump. Both depended on 'splash oiling,' like a modern lawnmower. At the end of each switchback a Model T or Model A driver would stop and rev his engine several times to make sure enough oil splashed up into the cylinders and on the bearings that the next switchback could be climbed or driven down without burning up the engine.

A side trip down Spur 173 will take you to Camp Verde, once home to the US Army's Camel Corps. Only one of the original buildings stands today. Once the camp headquarters, it is today a private residence. The chimney is dated and marked 'Pisé Work.' That's not a misspelling of 'Piece Work.' 'Pisé' is French for adobe.

FM 2828, which leaves Spur 173 just south of Camp Verde, will take you through some very pretty country and join 16 just south of Medina. In Medina there is a house of particular interest. It was designed by General John Bell Hood—Commander of Hood's Texas Brigade, CSA.

Southeast of Medina you encounter Bandera, 'The Cowboy Capitol of Texas.' There's an interesting old museum there, but mostly, these days, Bandera is home to what were once called 'Rexall Rangers'—drugstore cowboys. That doesn't mean it didn't have a rootin', tootin', shootin' past, though.

From Bandera the road goes through Pipe Creek and Helotes and into San Antonio. South of San Antonio the road goes due south in an almost straight line for nearly 150 miles. It passes through Poteet, 'The Strawberry Capitol of Texas,' where the water tower is painted to look like a giant strawberry. Poteet is home to a Strawberry Festival every spring. The next town is Jourdanton, where a lot of the old cattle trails began to join up. The cowboy statue in Jourdanton is interesting.

South of Jourdanton you enter what's known as 'The Free State of McMullen.' McMullen County is one of the few counties, if not the only county, in the US which does not take and has never taken federal subsidies of any kind. The county seat is Tilden, once known as Dogtown.

Tilden came by its new name in 1876. Samuel J. Tilden, former New York Governor, founder of the New York Public Library, and the 1876 Democratic candidate for President, actually won the popular vote. The electoral vote was tied, which threw—by law, at least—the election into the US House of Representatives, a body dominated by Radical Republicans. In a series of machinations probably understood fully only by God, the Radicals disrupted the election process and Rutherford B. Hayes was inaugurated. This was known as 'The Crime of '76,' and the people of Dogtown renamed their town for the man who won the vote but was denied the presidency.

From Tilden it's a long way—41 miles, to be exact—to Freer, and there's nothing out there. You've heard of 'miles and miles of Texas?' This is where it's brought home to you with a vengeance. You're in the brasada—the brush country of South Texas. The ranches are big and the side-roads few. In fact, you'll find only two side-roads on your Texas map. You will, however, cross the Nueces River.

Freer is in Duval County, which once had an evil reputation. It was the domain of George B. Parr, 'The Duke of Duval.' Parr has an evil reputation outside Duval County, but if you ask the ordinary people in Duval County, you'll hear a different story. While George B. treated the Duval County treasury as his own personal checkbook—Duval County once bought $40,000 worth of snow-removal equipment because George B. got a sizeable kickback from the seller—nobody went hungry in Duval County if el Patrón heard about it. Don't have enough money to give your daughter a proper quinceañera? El Patrón will see to it she has her quinceañera. Got a son or daughter who's smart enough to go to college but you can't afford it? Talk to el Patrón. Many a Duval County youngster got a far better education than the family could afford, thanks to el Patrón. Far from being a parasite like many 'political bosses,' George B. Parr was something entirely different and far older. He was 'el Patrón.'

Another 39 miles of brasada—make sure you have plenty of gas, because there's nothing but miles and miles of miles and miles between Freer and Hebbronville—will bring you into the heart of the South Texas oil patch. Between Hebbronville and Zapata things get a mite more interesting. You'll pass through—or by—three almost-ghost towns. They are Randado, Escobas, and Bustamante. The latter two contain some interesting buildings. The few residents of Escobas and Bustamante, for the most part, speak only Spanish. It's best to photograph the buildings' exteriors and leave exploration of the interiors—even the abandoned ones—alone. The final 55 mile stretch from Hebbronville to Zapata brings you to the shores of Falcon Reservoir. In the lake—sometimes visible if the water is very low—are the ruins of 'old Zapata,' the original town the lake covered when it was built.

© C. F. Eckhardt
"Charley Eckhardt's Texas" March 3 , 2008 column